Lesotho is truly one of the most unique, memorable and enjoyable places I have ever been fortunate to visit, for a whole host of reasons.
A landlocked nation, Lesotho is one of the three remaining African kingdoms (the other two being Swaziland and Morocco), and is one of the world's three enclave states – a nation that is completely surrounded on all sides by one other nation.
Breathtaking, impenetrable mountain ranges, deep valleys and sweeping grass plains stretch as far as the eye can see. Thatched villages cling to the mountainsides while clear streams lead to spectacular waterfalls and dams. Some call it Africa's best kept secret, and that is absolutely true.
The country is famously known as "The Kingdom in the Sky" (due to being the only country on earth that sits entirely above 1,000 metres), is the ultimate adventure destination packed with everything from trekking, biking, water sports, skiing, and more.
Scroll on to read: What to See and Do in Lesotho – Africa's Best Kept Secret
Disclosure: Some of the links below are affiliate links, meaning, at no additional cost to you, I will earn a commission if you click through and make a purchase.
Lesotho Essentials Checklist:
What to See and Do in Lesotho – Africa's Best Kept Secret
1: Drive Lesotho's insane, winding passes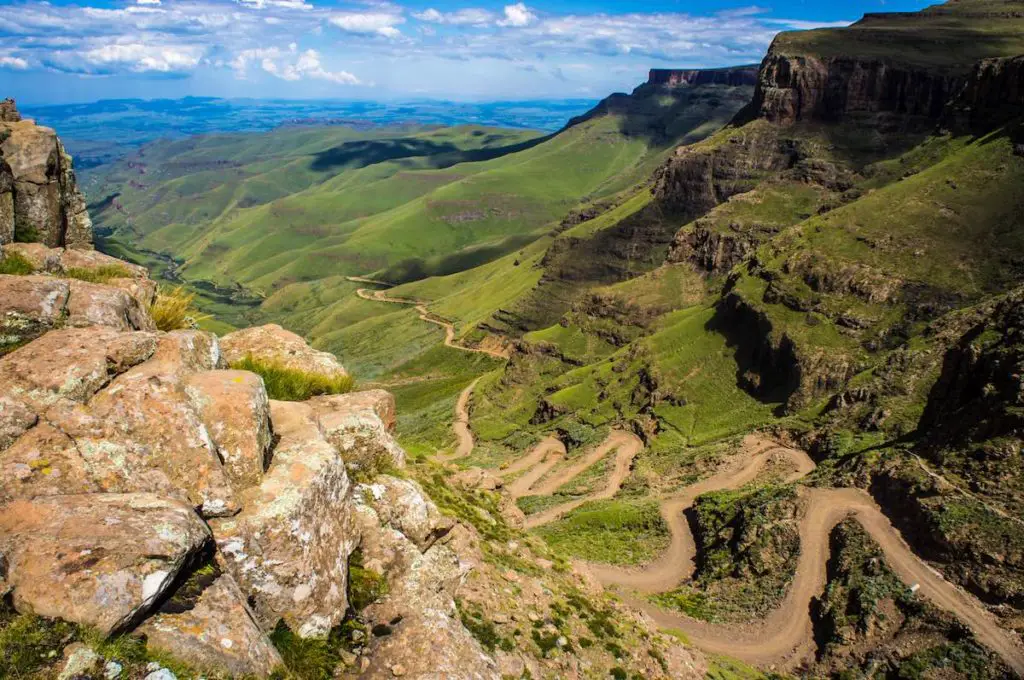 The country isn't called the Mountain Kingdom for nothing, and driving along the breathtaking roads that wind through the country's spectacular mountain ranges is one of the best things to do here.
The roads here have improved vastly in recent years, allowing for those driving non-4x4s and smaller cars to enjoy scenic and smooth drives at high speed. There are several impressive mountain passes around the country with stop-off viewpoints to pull over and take gorgeous snaps. Some of the most thrilling passes are the Mafika Lisiu Pass and the popular Sani Pass at the Lesotho/South African border.
If you aren't renting a 4×4, consider one of these 4WD tours below for a truly memorable off-road adventure along the famous mountain passes:
Sani Pass Private 4×4 Tour – a 7-hour guided private 4WD tour up the iconic Sani Pass (departs from Underberg)
Sani Pass and Mokhotlong 2 Day Tour – a 2-day 4×4 tour combining both treks and 1 night in Mokhotlong to experience the vibe of the rural Basotho trading village. (All inclusive with meals and accommodation).
2: Go on a picturesque Pony Trek tour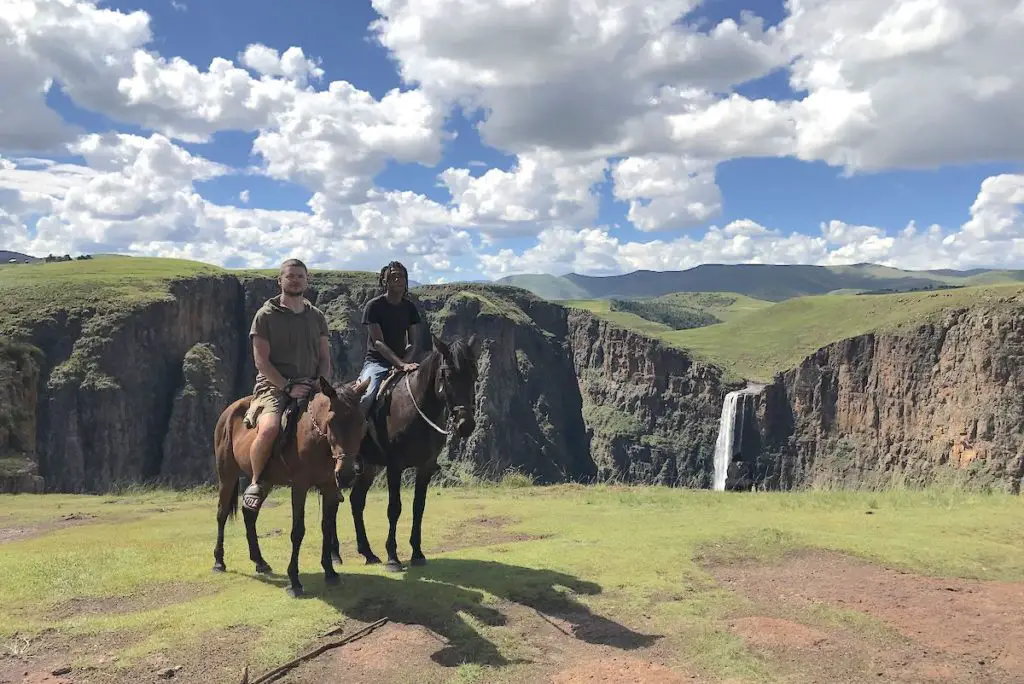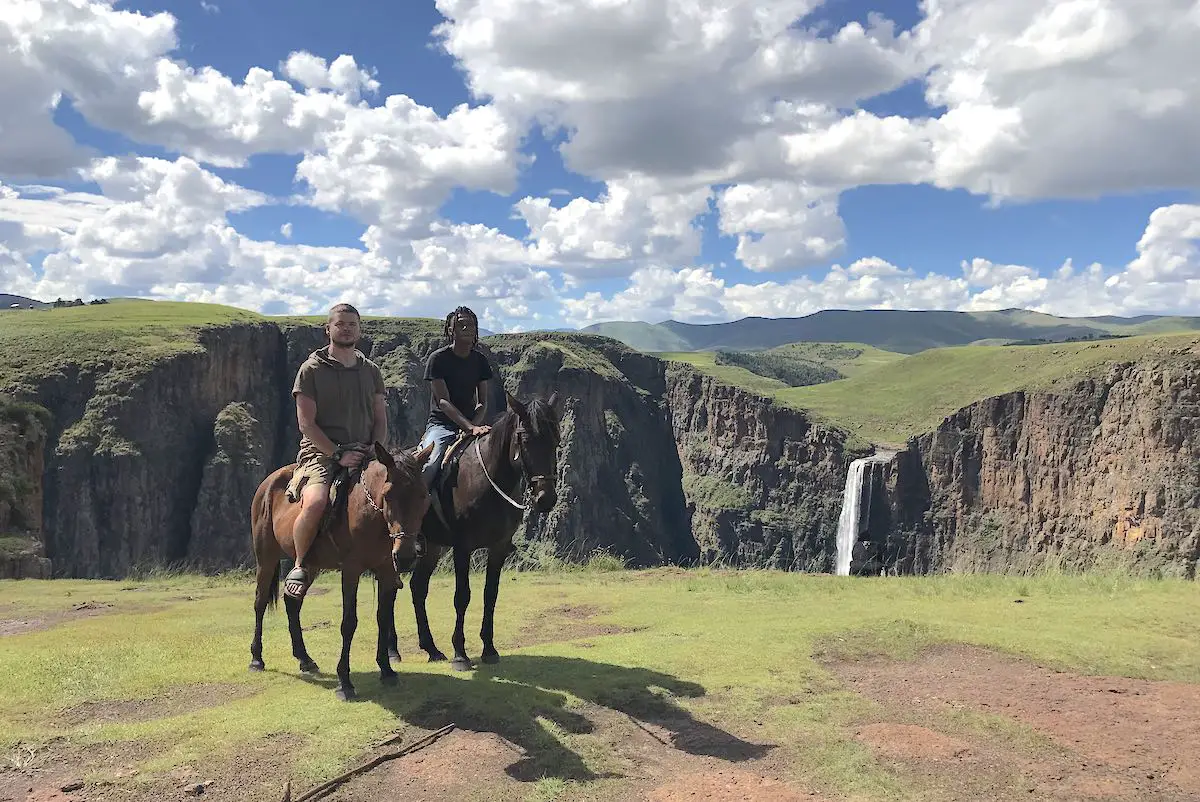 One of the most popular things to do in Lesotho is enjoy a world-class trekking experience on the famed Basuto pony. 
A trek on a sturdy pony (or horse) is easily one of the best ways to explore Lesotho's countrysides, taking you through the pristine mountain ranges of both highlands and lowlands where you'll discover the Basotho people. 
Pony treks range from 2-hour activities to a whole week, and you can easily choose an option that fits your schedule. Many lodges provide pony treks, you can book them at Sehlabathebe or Ts'ehlanyane national parks, and you can also book through an international tour operator here.
Admission: Pony treks can range from as little as 100R ($7 / £5) for a 2-hour trek to 300R ($20 / £15) for a 5-hour tour. Prices vary depending on lodge/tour operator and tour duration.
3: Abseil down Maletsunyane Falls
A visit to Lesotho would be incomplete without witnessing the incredible beauty of the Maletsunyane Falls, the second largest single-drop waterfall in Africa.
Whether you're seeking an adrenaline rush or simply to admire this natural wonder, this is easily one of the highlights of Lesotho.
Maletsunyane Falls has Southern Africa's highest single drop waterfall, and holds the Guinness World Record for the world's highest commercial abseil point. The 204-metre plunge draws daredevils and adrenaline junkies from all over the world.
Location: Semonkong Lodge
How to get there: From Maseru its a 2-hour drive
Admission: 1,200R ($80 / £60) per person abseiling (as of May 2022)
Website: semonkonglodge.com
4: Explore the Ha Kome Caves

One of the more unique things to do is visit the Ha Kome Caves, an intriguing village of cave dwellings nestled directly underneath towering rocks.
Early generations of Basotho fled to these caves to seek refuge from cannibals that once inhabited the area. Interestingly you'll find the descendants of these people still living there today, keeping with the same traditions as their forefathers did two hundred years ago.
Location: Pulane, Berea Region, Lesotho (60km east of Maseru)
How to get there: 1 hour 15 mins drive from Maseru
Admission: 100R ($7 / £5) per person
Opening times: 9am-5pm
5: Go fishing in crystal clear rivers
The picturesque setting amongst Lesotho's mountains and valleys is a fisherman's dream. With crystal clear rivers and streams waiting to be explored, the country offers a fishing experience like no other. 
Fishing season peaks from September to November and March to May, and is closed between May-August. Expect to catch rainbow trout, brown trout and carp, plus the country offers arguably the finest sight fishing of yellowfish on the planet. This traditional outdoor activity is suitable for both beginners and pros alike.
You can book your fishing activities or rent fishing equipment from any of the national parks or lodges. Below are some of the best fishing locations in Lesotho:
Katse Dam
The main reservoir (a flotation device may be required)

The Malibamat'so and Pelaneng confluence 2km upstream from Motebong lodge in Ha Lejone.
Mohale Dam
Makhaleng River, 2km below Molimo Nthuse Lodge.
Oxbow and Afriski
The confluence of the Ts'ehlanyane and Tlholohatsi Rivers, about 2km from Oxbow Lodge.

The Malibamat'so River, 2km below Oxbow Lodge.
Sehlabathebe National Park
Tsoelikana River downstream from the waterfall of the same name.

The ponds near the old Sehlabathebe Lodge.
Semonkong
Maletsunyane River upstream of and at the bottom of the Maletsunyane Falls.
6: Go hiking in the gorgeous countryside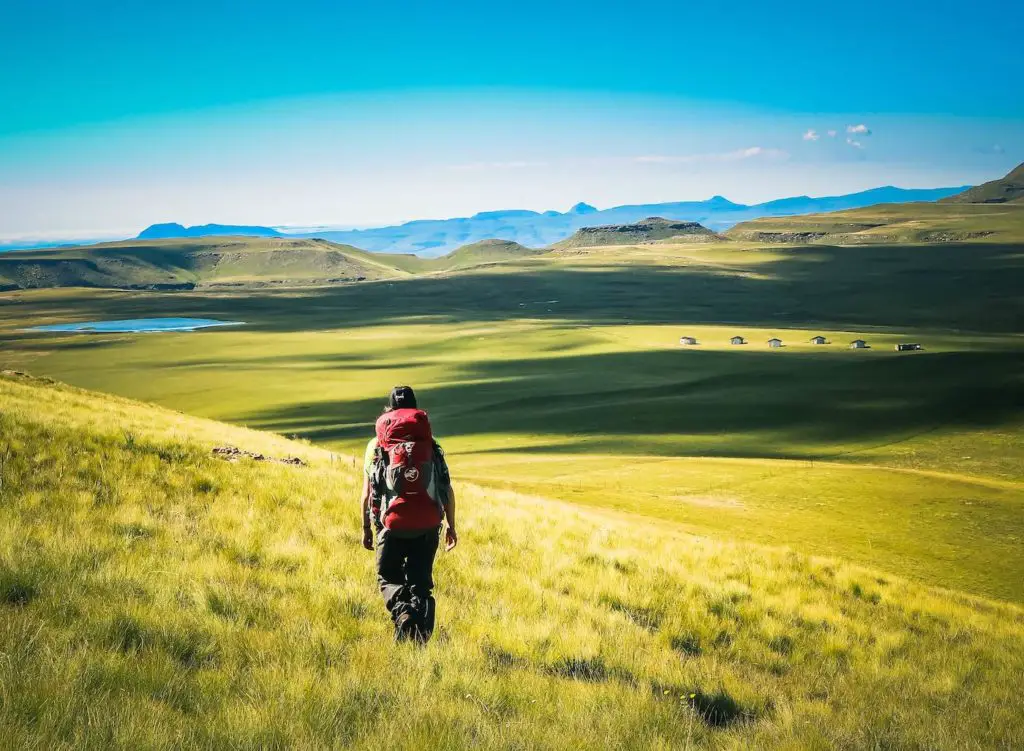 It's very easy to go hiking in the Mountain Kingdom and there is every kind of trail available – from super tough hikes to easy short walks. 
Lesotho is famously the only country in the world that is situated entirely above a thousand metres, offering the freshest air and cleanest water streams along with the most breathtaking views imaginable, it is indeed a hiker's paradise.
Some absolute musts include the Sani Pass to the summit of Thabana to Ntlenyana, and the short hike to the peak of Thaba Bosiu where founding father Moshoeshoe I built his fortress. 
Be sure to take advantage of the national parks for excellent hikes – Sehlabathebe National Park, Ts'ehlanyane National Park, and Bokong National Reserve.
8: See the world's largest dinosaur footprints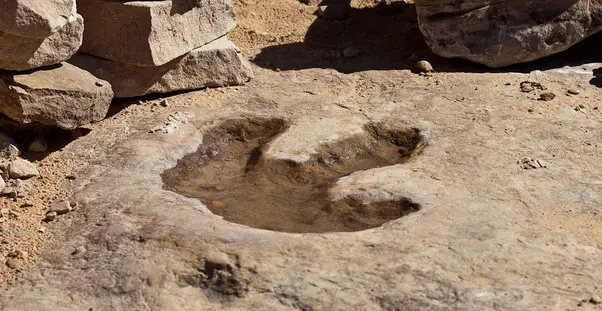 Lesotho is one of the few places on the planet that boasts impressive dinosaur footprints, and the largest known footprints of them all, no less. There's even a dinosaur named after the country, called Lesothosaurus Diagnosticus, an omnivorous lizard standing 2 metres tall and 9 metres long, that once roamed the mountains here more than 200 million years ago.
You can see the fossilised dinosaur footprints at Subeng (near Leribe), first discovered in 1955. There are more to be found in areas like Liphofung, Morija, and Quthing.
Location: Hlotse, Leribe
How to get there: About 7km north of Leribe (en-route to Butha-Buthe). At the signpost, just before the road crosses the river, walk about 500m to a concrete causeway. The worn footprints of at least three species of dinosaur are 15m downstream on the right bank.
A local man who owns the land will collect your money, and children will likely offer to guide you.
Admission: 50R
Opening times: 7am-6pm
7: Numerous  water sports activities
Few places on the African continent are abundant in water like Lesotho. Indeed, water here is known as "white gold", due to its importance to the economy. 
Enjoy kayaking down the Senqu River (and witness the impressive "horseshoe bend" while you're there). Go canoeing on the Mohale or even the Katse Dam, the second highest dam in Africa. You can also do white water rafting, fishing in the streams, small boat sailing, and even swimming. Tere's ample opportunity for plenty of water sports, both serene and extreme.
9: Go mountain biking

As well as hiking and driving, you can get on a mountain bike and ride impressive trails pretty much anywhere in Lesotho. 
You can ask at almost any lodge in the country about hiring a bike, and enquire about mountain bike tracks in the area – be sure to let them know what your experience level is like, as there are countless tracks for all different levels.
10: Visit Thaba Bosiu Cultural Village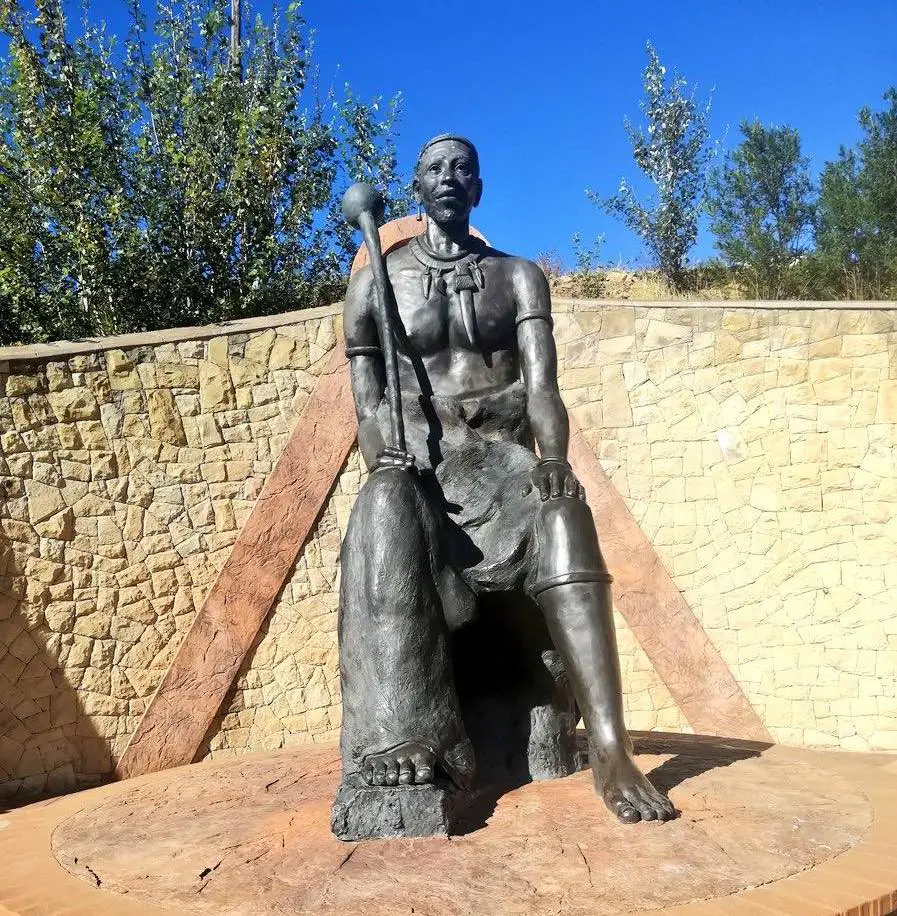 A must for history and culture buffs, Thaba Bosiu Cultural Village sits 24km from the capital Maseru, and here you can learn all about the unique history of Lesotho and how it came to existence and one of the world's three enclave nations.
There are carefully preserved traditional rondavel huts that you can enter and see how the Basotho people lived during the country's turbulent early years, and you can see the larger than life monument to King Moshoeshoe I, the founding father of Lesotho.
The grounds also feature a museum and an amphitheatre where you can watch singing and dancing performances, as well as a bar, restaurant, and chalets that you can book to stay in.
Be sure to visit the nearby Thaba Bosiu mountain, the most important historical and cultural site in the country. Considered the birthplace of the Basotho nation, King Moshoeshoe I established his mountaintop fortress right here in 1824 to keep his people safe during the Difaqane wars.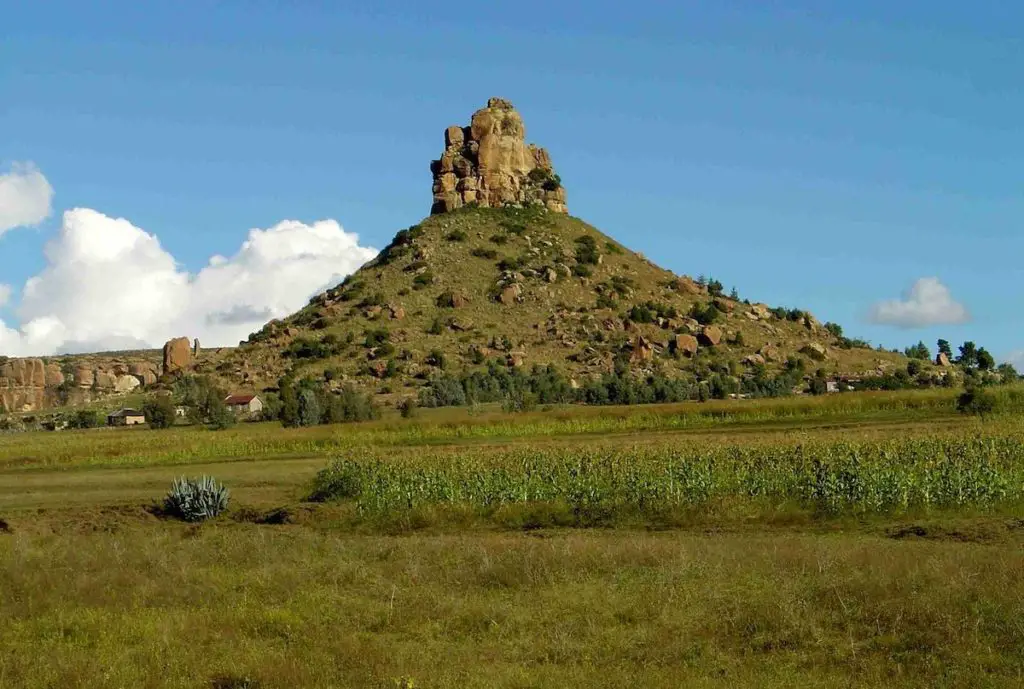 Location: MM37+FGG, Motloang, Lesotho
How to get there: Approximately 30-45 mins drive east of Maseru along the A2 and B2. Regular public transport runs from Maseru.
Admission: 100R per person
11: Go skiing at Afriski Resort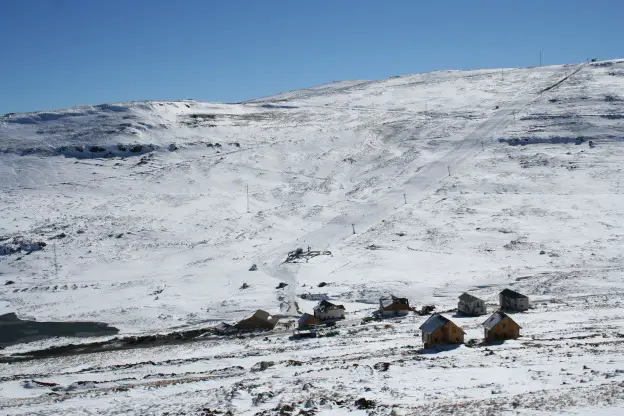 Yes, you can actually ski in Lesotho. The country has the coldest temperatures on the African continent, and during the winter months the mountain peaks become snow-capped as temperatures fall below zero.
This creates the perfect environment for skiing and snowboarding, and Afriski is the place that arranges these activities for visitors as well as offering luxury mountain-top accommodation and the highest restaurant in Africa.
The activities are only available during the winter months of June-August.
You can book your Afriski activities here, and if you're considering staying over, click here to select one of the mountain-top lodge options with spectacular views.
How to get there: From Maseru it's 3.5 hours drive.
Admission: Pricing starts at 1000R for a 2-hour beginners package, to 4000R for premium packages.
Opening times: 9am-4pm
12: Explore Maseru, the capital city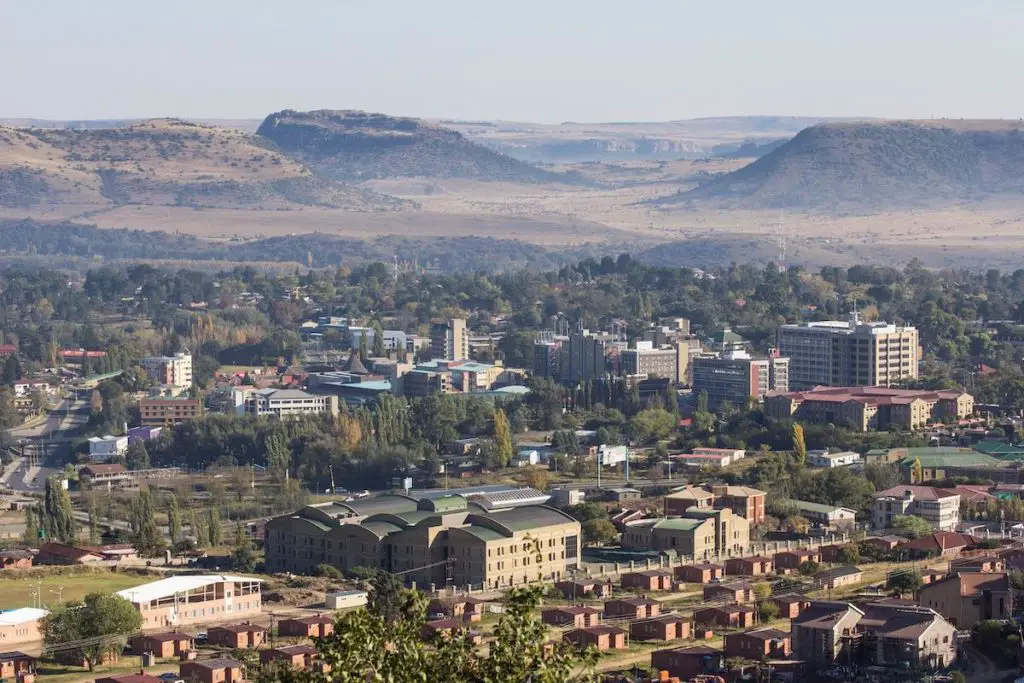 Maseru is Lesotho's capital and largest city, situated in the north-west of the country, close to the border.
In stark contrast to the rest of the country, you can expect to find things to see and do here that you wouldn't be able to find anywhere else in Lesotho's vast rural countryside. There's museums and parks, with the Thaba Bosiu museum and cultural village close by. The Basotho Hat Shop is worth a visit, where you can buy an iconic wool blanket or Basotho hat exclusive to the country.
There's shops, bars, a mall, restaurants and takeaways, and if you're missing a good strong coffee, there's plenty of cafes to satisfy your cravings.
To really appreciate just how stunning Lesotho is you have to be there in person, but you could also take a look at this superb aerial view travel video taken by drone, below:
General Information about Lesotho
Area: 30,355km squared
Weather: -6C (winter), 28C (summer)
Population: 2.14 million
Founded: 1822 (as Basotholand), 1966 (Independence from the UK)
International Airport: Moshoeshoe I International Airport (MSU)
Other Things to See and Do in Lesotho:
13. Sip a cold beer at Africa's highest Pub
At the end of the Sani Pass on the Lesotho side you'll find the highest pub in Africa, situated at the Sani Mountain Lodge. The perfect spot to stop, relax and admire the spectacular views with a chilled beer in your hand.
14. Visit the Katse Dam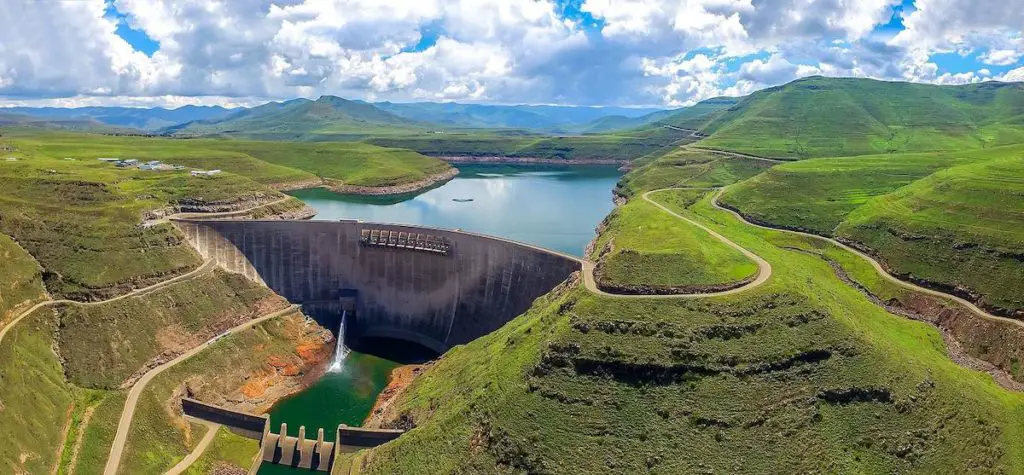 Situated in the Maluti Mountains, the Katse Dam is the second largest dam in Africa. The 185m high dam is the perfect place for a tour where you can get inside the dam wall and see the precision laser instruments that monitor the dam's behaviour.
You can also enjoy activities such as canoeing or pony riding here. Alternatively, stop by for a picnic and marvel at this impressive, modern engineering feat.
15. Wander the Katse Botanical Gardens
It's worthwhile dropping by the Botanical Gardens while you're in Katse to see the spiral aloe flower that is exclusive to Lesotho and is the country's national flower. The centre was established to save the national flower along with other endangered plants from being destroyed during the construction of the dam. Other features at the site include a medicine garden, rock garden, and areas displaying plants that thrive in mountain zones and high altitudes.
Top 10 Cafes and Restaurants in Lesotho
Don't forget to book travel insurance
Obviously it kinda goes without saying that when you travel in Africa and beyond, travel insurance is super important.
I never always bothered though. For years I travelled without insurance as I thought, "what could happen?"
Well, I once got my bag stolen in Vietnam and I had an electric shock in a hostel bathroom in Mexico. What if you're hiking a mountain and your appendix suddenly bursts, leaving you in excruciating pain and requiring emergency treatment? Anything could happen.
I use World Nomads for comprehensive cover and convenience at great prices on all my travels, and I never set out without it. Click on the link for details or get an instant quote below.
So that's it – my guide of the best things to see and do in Lesotho.
Without a doubt Lesotho is one of the most beautiful countries you will ever visit, and not only for the vast untouched natural beauty, but also the incredibly friendly and helpful people everywhere you go in Lesotho.
Currently Lesotho is experiencing a surge in tourism and much of the country is still very much unexplored and undeveloped (in terms of tourist packages, attractions, hotspots etc.), all of which gives you the advantage of enjoying the ultimate unspoilt, offbeat travel experience – you will rarely see a foreigner here, let alone crowds of them!
Where to stay in Lesotho
If you're staying in Maseru, use the widget below to find some great accommodation options on the Booking site:
Commonly Asked Questions:
Book Your Trip to Lesotho: Budget Tips & Tricks
Flights: As always, I source the cheapest flights on the web from Skyscanner and Kiwi.com. They are considered the top flight search engines for the best deals.
Accommodation: I use Booking to find fantastic cheap stays with free cancellation options. 
Travel Insurance: This will protect you from theft, injury, illness, and cancellations. A safety net in case anything goes wrong, I never leave without it. World Nomads is my favourite agent for total peace of mind.
Tours: I book all my fave activities and guided tours on Get Your Guide & Viator – they do superb deals whilst offering excellent customer support.
Head over to my Travel Tools page for all my best travel tips & advice and everything you need for your trip.
Lesotho Day Trips and Activities on Get Your Guide:
A guided tour and sightseeing events are some of the best ways to experience Lesotho. Here's some excellent deals for the most popular trips and activities around the country. (Remember, you can cancel your bookings at anytime!)
Lesotho Travel Guides
For more in-depth reading about Lesotho and Southern Africa, you can get your hands on a copy of these bestsellers below:
You might also like:
I hope you enjoyed reading my post: What to See and Do in Lesotho – Africa's Best Kept Secret, and feel inspired to visit Lesotho one day.
Let me know what you thought in the comments, thank you!