People often ask me: Billy, why do you travel so much?
Before the pandemic struck, I often used to jet off on a last minute booking. Or I'd just arrived home from an epic trip abroad, before heading off again.
Sometimes people asked why I'm always jetting off to a distant, warm place before Christmas every year, instead of spending this time at home with family, like most people do.
So, why DO I travel so much?
In short – life is short.
There is only a small window of opportunity to make the MOST of the life we have.
The best years of our lives are RIGHT NOW – while we still have our energy and health, strength and virility.
Scroll on to read Why Do I Travel? (+ 10 Benefits of Traveling the World)
*Disclosure: Some of the links below are affiliate links, meaning, if you click through to make a purchase, I earn a small commission – at no extra cost to you.
Why Do I Travel?
Reason #1: Life
The main reason why I want to travel is very simple: Travel is Life.
Growing up, I was conditioned at school just like everybody else, to be prepared for a life of working for the next 40 years – the best years of my life – 'earning a living'.
But being the ever curious questioner of all things that I am, I have always doubted this lifestyle.
Why should I have to work 9 to 5 every day, five days a week, just to EARN a living?
Did you know that humans are the ONLY species on earth that have to PAY to live?
I asked myself: is this really life?
I soon learned from many people – this lifestyle, known as the 9 to 5 trap, is nothing more than an illusion. It's basically modern slavery.
When you REALLY think about it, all you are doing is grafting away your WHOLE life, and most likely to make a greedy company boss even richer than he already is.
Where's the logic in that?!
Why do people work 40 hours a week?
Science has proven that people work more efficiently on 20 hours a week, and many countries in northern Europe implement this.
And its no wonder Scandinavian countries have not only some of the STRONGEST economies, but also the HAPPIEST citizens in the world!
Regret: the bane of the elderly
Many elderly people regret missing out on life – they'll tell you they wished they spent more time seeking adventure, making wonderful memories, and travelling the world.. rather than working away until they became old and weak, and then – it's too late.
So I realised that being ushered into a 9 to 5 office job, is only a choice.
I don't have to bow to pressure from my parents, teachers, career advisors or ANYONE else, to go down this route.
It's not their life – it's MY life.
That's not to say I haven't worked in laborious jobs that pay minimum wage.
I have seen the despair of tired, unhappy colleagues when I worked in a couple of warehouse jobs, sorting parcels.
Miserable line managers used to watch our every move – breathing down our necks, telling us off for checking our phones, and telling us we have just "3 minutes starting now" when we need to pop to the toilet.
THAT, is not my idea of LIFE.
I decided I did not want to be part of a system that exploits people only to serve a handful of wealthy elites.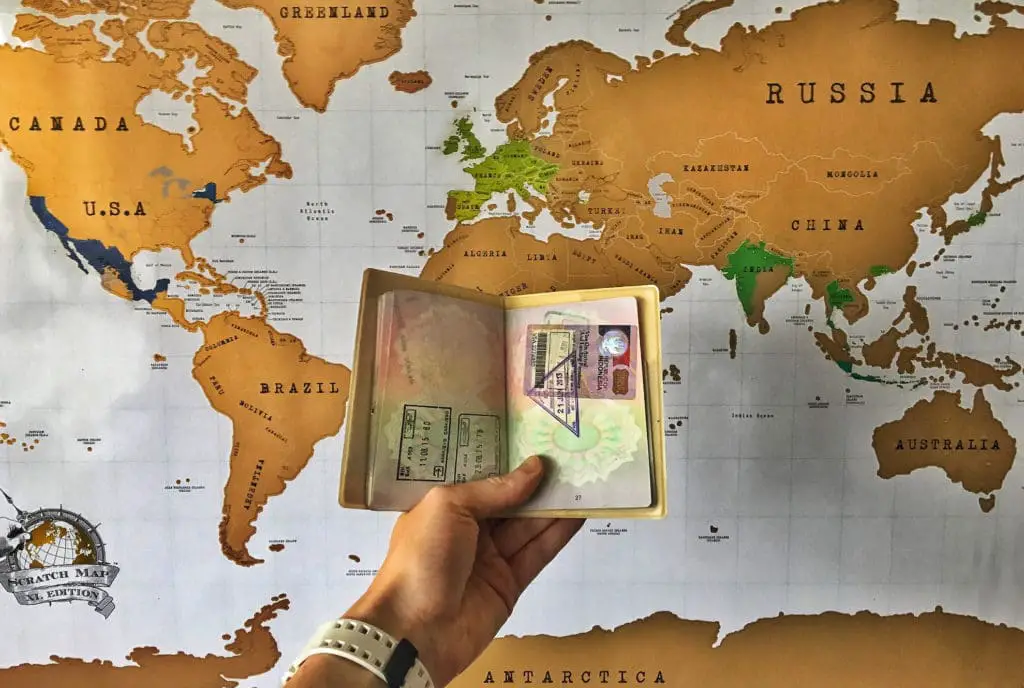 Reason #2: The Curiosity To Explore
I want to use my senses, enjoy the simple things in life, and embrace the happiness of exploring.
Staying rooted in one place for a long time just makes life stale.
The same old, never-changing routine can get boring because you KNOW what to expect day in, day out.. and before you know it – you're reaching a mid-life crisis, and wondering where all those years went.
Seeking adventures
Adventure is an essential part of life that I believe helps maintain youthfulness, good health and happiness.
Skydiving, jet-skiing, snowboarding, whale-spotting, scuba-diving, zip-wiring, kayaking, you name it.
Even jumping off a cliff edge into the cold sea – flooding the body with adrenaline, and the flow of blood from a fast-pumping heart rejuvenates the body in the same way an intensive workout exercise does.
Or just a walk along the beach at sunset.
When I'm at home in the UK on a cold, wet and windy day, do you know what I really miss most about travelling?
Lying on a sun lounger on the beach, with the sun shining down, a gentle breeze coming in from the sea once in a while, and the sound of the waves breaking on the beach.
Click here to read all about my WORST travel experiences – including missed flights, getting robbed, getting electrocuted, and that time my arm blew up!
Savouring the best food I've ever tasted
In the UK where I'm from, the typical food palate is very bland, and mostly unhealthy, and I just couldn't imagine living on that.
One of my favourite things about travelling is discovering truly delicious, authentic, and super-healthy food, that no restaurant back home could ever replicate.
Exploring the most stunning views of mother nature
We know from books, movies and the internet that the world is full of stunning beauty. We see it everyday in the Instagram feeds on our super-quality smartphones, and on the Discovery Channel on our OLED flatscreen TVs.
But all of that, doesn't even come CLOSE to witnessing natural wonder by seeing it in all its glory, with your own eyes. The experience of being there cannot be described, it has to be experienced in person.
Reason #3: Memories
To create everlasting memories.
Travelling makes you richer because it gives you treasured memories that are yours forever. These become legendary stories to tell your friends, family and your grandchildren.
I had a conversation with someone years ago who asked me what my favourite thing in the world is, and we both answered the same thing: travelling.
We did not want to be burdened by the stressful consumer lifestyle of owning property and accumulating debts, and the cycle of spending money on unnecessary materialistic things in the belief it will make us happy.
By nature we are designed to always want more, yet we are never satisfied with what we have.
Have you ever noticed that people with so many possessions seem miserable and stressed?
Hence the cycle of buying the latest iPhone model or tablet, taking out finance on a newer car, a home extension, and so on.
When you travel, you become a free spirit.
You take only what you need – the less things you have, the less you have to worry about.
Reason #4: Self Education
Its true what they say – that travelling is one of the best forms of educating oneself.
Museums, palaces, heritage sites and historic landmarks contribute to very educational experiences, as do spending time with local peoples.
"Travel is the best education anyone can have."
---
Understanding people's customs and their way of life is one of the most important things I learn in my travels, because it defeats ignorance. I believe ignorance is one of the biggest problems among humans in the world.
I like to think I'm well studied in history and geography, but when visiting new places I always learn something that contradicts what I learned in school.
On travels you realise that there exists differing feelings between countries and peoples – of resentment, sorrow, gratitude, love, and even hatred.
It's important to understand why people have those feelings, rather than cast judgement and make assumptions.
I have met people from all walks of life – everywhere I've travelled, I've met people from different cultures, who don't speak my language, who live differently, and follow different customs and religions.
I've met extremely poor families in remote villages, and I've met millionaire businessmen.
One thing I have noticed when I travel – is that all the people I meet who have FAR less than I have, are the KINDEST and most generous people I have ever met in my life.
And on top of that, the literal act of travelling is ALWAYS a learning experience in itself.
Because you learn how to book/take flights, use public transport in different countries, communicate with locals, adapt to local customs, and even just find your way around a busy city.
You pick up a lot of new skills too – for example, I taught myself to ride a scooter in Bali six years ago. Now I am super confident, I have rode scooters around six countries in Asia – from the chaotic traffic of metropolis cities like Delhi, Bangkok, and Ho Chi Minh City, to rocky terrain on remote islands like Nusa Penida off the coast of Bali, and I can do it with two passengers behind me too.
When I learned how to plan and go on a trip by myself for the first time, it gave me a MASSIVE confidence boost.
It didn't only crush my fears and doubts of travelling alone. It also gave me the confidence to meet new people and open up more as a person.

10 Reasons Why I Travel (and why you should too):
To see the world through brand new eyes

To get a fresh new perspective

To be thankful and appreciative of what you have

To create and keep everlasting memories

To admire and be blown away by Mother Nature

To become more educated and learn about other cultures

To eat and sample delicious new foods

To get out of my comfort zone and try new things

To make the most of life, and have no regrets

To take a break from a stale work routine
What is the main purpose of Travelling?
The purpose of travel can vary from person to person, but ultimately it is connected with opportunities to learn and grow, build social relationships, and living your best life. Travel gives us the chance to be truly engaged in activities, develop new skills, discover new cultures, and live in the moment.
How does traveling affect your life?
When you travel, you meet new people, discover new cultures, and experience new things you'd never find at home. You learn new things all the time and embark on all sorts of adventures both good and bad, all of which can shape you into a better and more rounded person, and perhaps even redefine your meaning of life.
Why is travel good for the soul?
Travel makes you humble and appreciative of other lives. You get to explore new places, do new things, meet new people, and discover a new meaning in your life to live for. Travel helps you reconnect with nature and humanity, letting go of the repetitive grind of your daily routine to discover that there is much more to life.
Here's 5 Scientifically Proven Health Benefits of Travel
Travel relieves stress. By switching off from work mode and simply just enjoying being in the present, works wonders.
Travel is healthy. As well as making you fit and active, you will also discover new healthy foods, breathe cleaner air, and live a healthier lifestyle.
Travel increases happiness. By not having any expectations, you will receive pleasant surprises, and you'll be in awe of the incredible beauty of nature and other cultures.
Travel boosts your confidence. Take it from me on this one – if you suffer from self-esteem issues or lack of confidence, you'll find travel will give you a massive boost, especially when you meet new people.
Travel lowers the risk of depression. More exposure to sunlight and the natural elements does wonders for your skin and body, eliminating blues and greatly lowering the risk of depression.
I hope you enjoyed reading my post: Why Do I Travel? (+ 10 Benefits of Traveling the World), and that it inspires you to take up traveling when the world opens up again.
Where will your travels take you this year?
Further Reading
Download your FREE 20-page Travel Planner Guide
And get access to all my best budget travel tips, checklists, additional freebies, and more.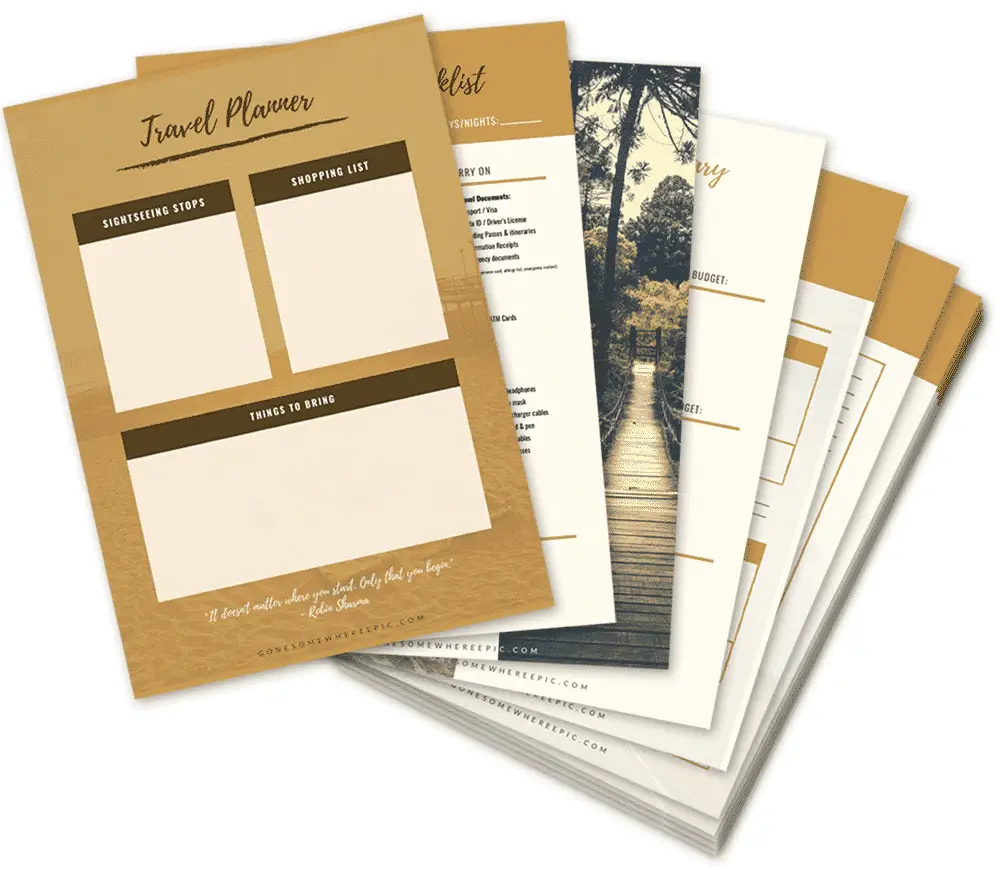 Book Your Trip: Budget Tips & Tricks
Flights: As always, I source the cheapest flights on the web from Skyscanner and Kiwi.com. They are considered the top flight search engines for the best deals.
Accommodation: I use Booking for the best hotel deals and HostelWorld for the cheapest stays. If you're considering Airbnb, be sure to check Vrbo to find cheaper vacation stays. 
SIM cards: DrimSim is a universal SIM card that isn't tied to an operator and works in any country/region.
Travel Insurance: Stay protected from theft, injury, illness, and cancellations. A safety net in case anything goes wrong, I never leave without it. World Nomads is my favourite agent for total peace of mind.
Tours & Excursions: I book all my fave activities and guided tours on Get Your Guide & Viator – they do superb deals whilst offering excellent customer support.
Renting a car? I always use DiscoverCars, make sure you book your car hire in advance. For airport transfers, I use KiwiTaxi for the best deals.
Need to store your luggage in a locker? Use Radical Storage to store your stuff in a locker in any city for just $5 per day.
Head over to my Travel Tools page for all my best travel tips & advice and everything you need for your trip.