Malta – the tiny Mediterranean nation that stands out for it's sheer uniqueness, long and rich history, and stunning natural beauty.
Known for being ruled by some if the world's greatest empires – including the Byzantines, Romans, Moors, Knights of St. John, French, and then the British Empire – this has shaped Malta into an extremely culturally diverse and historical place, dotted with numerous fortresses and megalithic temples.
For a small island, there's an awful lot of things to see and do. In fact, I spent a week here, and despite being the only country in Europe where every corner of the island can be reached within a couple of hours drive, I still didn't manage to see everything Malta has to offer.
In this post, I've compiled a list of the top things to see and do in Malta, including the best tourist attractions suitable for all traveller types – solo and couples, families, young and elderly alike.
Did you know: Malta was awarded the George Cross by King George VI of England, to commemorate the bravery of it's citizens who defended the islands against German invasion during the Second World War. To this day, the George Cross features on the flag of Malta.
Head over to my post: 20 Interesting Facts About Malta for more fascinating facts.
COVID-19: Entry Requirements for tourists:
Tourists wishing to travel to Malta face entry requirements upon arrival, please check your country of residence's guidelines for travel.
Disclosure: This post contains affiliate links. That means if you click and/or make a purchase, I receive a commission. Don't worry, this is at no extra cost to you. 🙂 Thank you for your support!
Travel Guide: 10 Best Things To Do In Malta (2022 Edition)
Malta & Gozo Attractions Map
Malta Essentials Checklist:
Here's a compilation of the 10 best things to see, do and eat in Malta:
1. Explore Valletta: Malta's UNESCO World Heritage Capital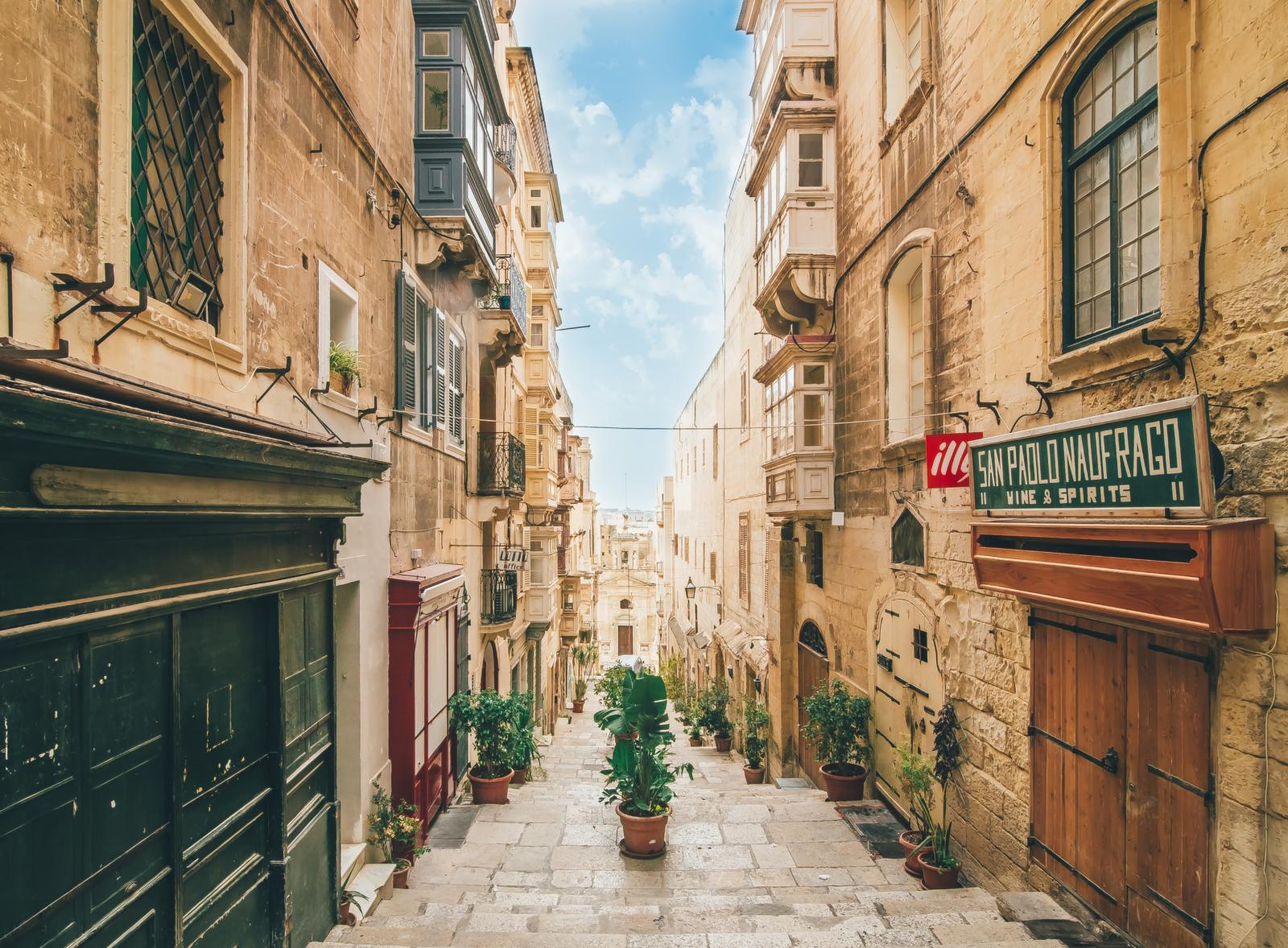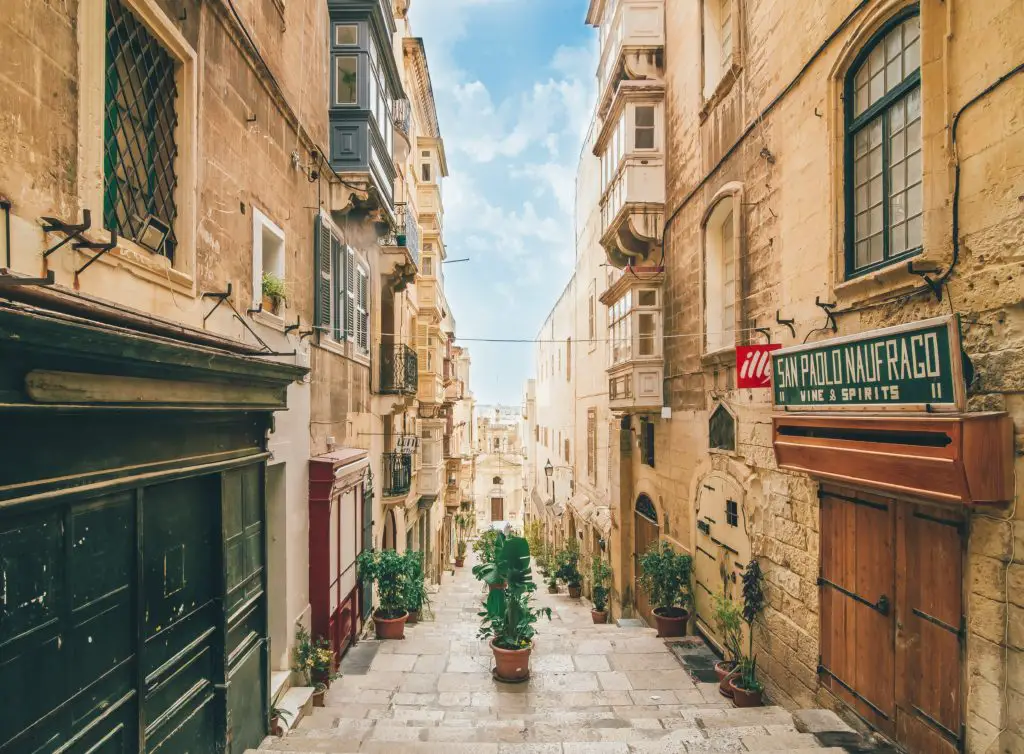 Valletta is a historic fortress city situated on a peninsula on the east of the island.
The capital of Malta, it's granted UNESCO World Heritage status and was the former headquarters of the Knights of St John during the Crusades.
The Knights Templar (aka Knights of St. John) used Malta as a base on the edge of Europe when traveling to the Holy Land to fight in the Crusades.
When coming to Malta, Valletta can't be missed out on your itinerary. Packed with plenty of hidden treasures, gorgeous restaurants and hip cafes, and of course, stunning architecture that tells the story of Malta's diverse colonial heritage. Lose yourself in Valletta's alleyways to explore Malta's hidden beauty!
Visit the Siege Bell War Monument at Lower Barrakka Garden and take in the stunning views of the Grand Harbour.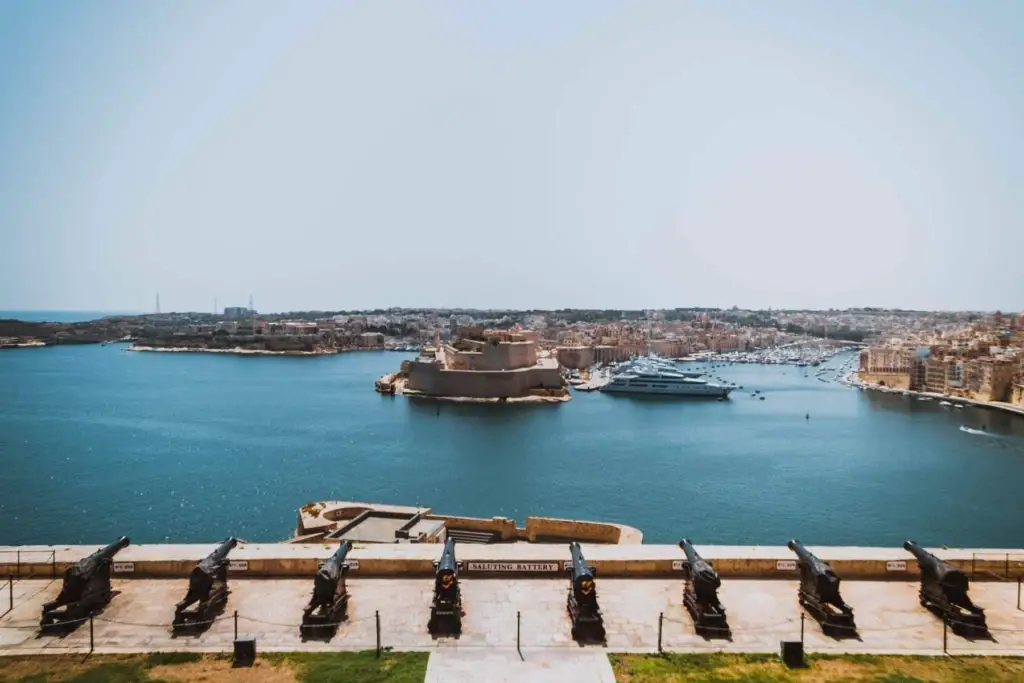 After that, head over to Upper Barrakka Garden to witness a breathtaking sunset and incredible views over the Three Cities (Cospicua, Senglosa and Vittoriosa).
Tip: If you get here at noon instead, you'll be able to witness a traditional cannon firing ceremony, which stems from a an old Valletta tradition where foreign vessels were greeted by cannon shots from the saluting battery at the edge of the Grand Harbour.
You can also take a 15-min bus ride round to nearby Sliema and catch the ferry back to Valletta to admire the picturesque views of the city from a different angle.
Did you know: During the Great Siege in 1565, the Ottoman Empire tried to invade Malta through Valletta. Over 2000 foot soldiers of the Knights of St. John, successfully defended the island from attack.
Try a traditional Maltese dish: Pan-fried rabbit

A Malta holiday would be incomplete without savouring some authentic Maltese cuisine, so I sat at a fine restaurant on Merchants Street called La Pira Maltese Kitchen, and ordered one of the most popular dishes on the island: Pan-fried Rabbit. It was DELICIOUS!
Alternatively, try some fine Lebanese food at a lovely restaurant called Falafel Street Lebanese Kebab and Grill.
I had a mixed grill of chicken and beef with a selection of vegetables, yoghurt and houmous, and pitta bread, and a chilled drink, all for less than €10.
Malta is known for great Middle Eastern cuisine, and this place is by far one of the best on the island, and at a really good price too.
2. Cliff Jumping & Boat Ride at Blue Grotto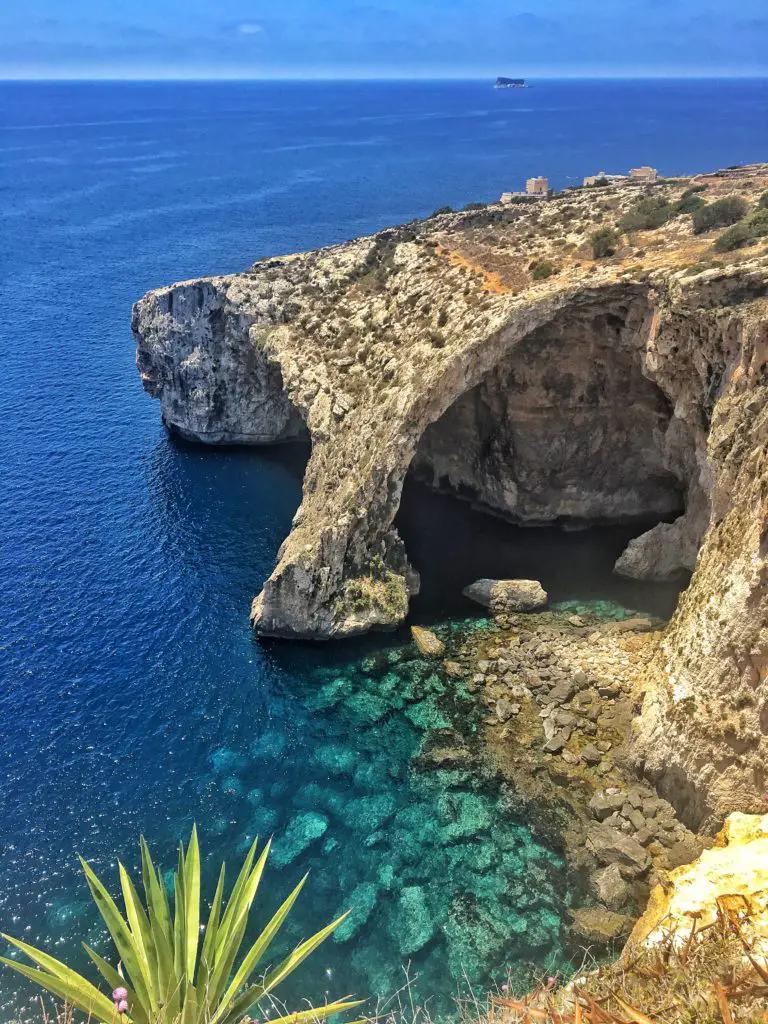 The Blue Grotto is a series of stunning sea caverns located near the fishermen's harbour village of Qrendi, on the southern coast of Malta.
With incredibly blue waters, brilliant phosphorescent colours of underwater flora and fauna, and the mirroring of the seawater on the caves due to the rays of light, Blue Grotto has become one of the most popular tourist attractions on the island.
Only an hour's bus ride from Valletta, Blue Grotto is ideal to visit early in the morning. Featuring some of Malta's most breathtaking views, it's the perfect place to enjoy a clifftop hike, a boat ride through the caves, and jumping from the rocks into the shimmering blue waters.
Useful Tips:
How to get there: Number 74 bus from Valletta Main Bus Terminal (Stand A5)
Admission: Free. Boat rides to the caves cost €8 per person.
Opening times: All hours
What to bring: backpack with water, and plenty of sunblock.
Essential Item: Since the water on Malta has a bitter taste, you may find yourself buying small bottles of water at €2 each. Carry a Lifestraw Go Water Filter Bottle with you instead. Not only will it filter any water you put into it, it will also save you money and help save the planet from plastic waste (bonus!) Get yours from Amazon (US)  |  Amazon (UK)
3. Marsaxlokk & St. Peter's Pool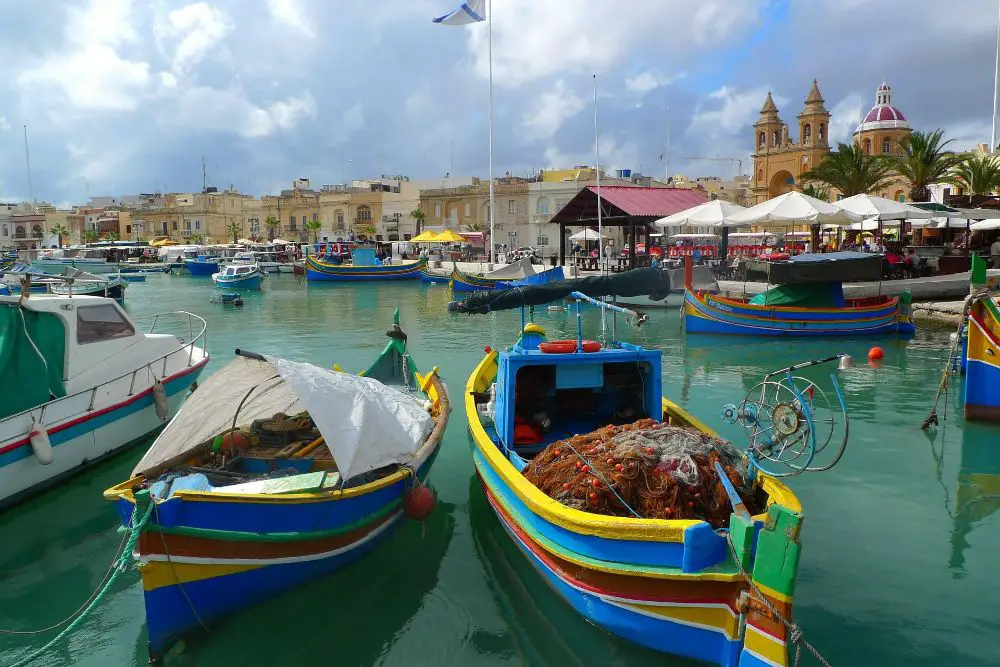 Marsaxlokk is a picturesque harbour village known for its daily open-air market that offers a selection of the best fish on Malta.
Here you'll catch a glimpse of authentic Maltese life – where the locals go about their daily lives in laidback fashion. You may notice a unique tradition – the boats are painted in bold colours, and every single boat has a pair of glaring eyes on the front!
Its also great for walks around the harbour and even has untainted, beautiful natural water bays that are becoming increasingly popular due to Instagram.
Tip: Marsaxlokk is a great place to stop for the first night or just the first day, as soon as arriving in Malta, or the final night just before flying home, because it's only 5 minutes from Luqa airport.
And be sure to enjoy a swim in St. Peter's Pool – a stunning aqua-blue, natural pool not far from Marsaxlokk.
How to get there: From Valletta: Routes 81 and 85 (45 minutes)
4. Wander the Silent City of Mdina

Malta's former capital, Mdina / Rabat, is known as the Silent City due to having a population of just 250 people!
A UNESCO World Heritage Site, everything is within walking distance in this tiny city.
From Valletta, take a 35-minute bus journey to Mdina. Upon arrival you will see the fortified walls and a bridge leading to the gated entrance, known as Mdina Gate. Within the walls of the old city is a network of alleyways, cobbled stone roads and open squares full of stunning medieval and Baroque architecture.
Down these alleyways and enclosures you'll find some true hidden gems, including this building adorned with the most stunning vertical garden of violet flowers!
Is Mdina Malta worth visiting? I'd say its one of the best places on the island!
Head over to my post: Top Instagram Spots in Malta, for details on finding these hidden gems in Mdina and across the island.
Useful Tips:
How to get there: Number 51, 52 or 53 bus from Valletta Main Bus Terminal
Admission: the city is free to visit, but tickets are required for entry to the Cathedral, Museum and exhibitions (€5 for adults, free for children under 12)
Opening times: the city is open all hours but may close on public holidays. The Cathedral and Museum are open Monday to Saturday 9:30am-5pm, and are closed on Sundays.
If you have time, the neighbouring city of Rabat is literally a short walk away, and is worth a visit.
What to bring: water, sunblock
5. Discover the Crystal Lagoon on Comino Island

Malta's third island, Comino is famous for the Blue Lagoon, the most popular attraction on Malta, and known for some of the most crystal clear aqua waters in Europe. But even better than that, is the seclusive yet breathtaking Crystal Lagoon.
Despite the over-commercialisation of Blue Lagoon being promoted as the greatest of Malta's tourist attractions, it is unfortunately spoiled by pollution and hordes of tourists scrambling for space on the small beach, even cramming the waters like a flock.
But worry not! Because there is an even BETTER spot on Comino island – called The Crystal Lagoon.
The Crystal Lagoon is a secluded little gem on the southern coast of Comino that has hardly any tourists there. And whats more – there's stunning, crystal blue waters here just like at the Blue Lagoon!
Trust me – this is the place to be on Comino.
From the minute your boat docks at Blue Lagoon, fight your way through the crowds that fill the waters and line the beach (yep, it's that bad!), walk up towards the food stalls past the overflowing trash bins, and make your way onto the off-beat, slightly hidden path that leads up over the rocks.
Twenty minutes later, you'll be coming back down towards the sea, and here you'll find the natural wonder that is the Crystal Lagoon. Have a spot of snorkelling nearby and bask in the sunshine by the shores, without worrying about crowds of tourists.
Useful Tips:
How to get there: Bus numbers 41, 42, 221, and 222 from Valletta Main Terminal goes through Mellieha to the ferry port of Cirkewwa.
Admission: €10 return trip on the ferry.
Opening times: Ferries operate from 8am until 6pm
What to bring: backpack with water, sunblock.
6. Vibrant Nightlife in St. Julian's & Paceville

The village of St. Julian's is known for it's energetic nightlife, and in particular the core, known as Paceville.
With a variety of bars and nightclubs open til the early hours, this is Malta's top spot for the ultimate clubbing experience.
As well as the clubs, St. Julian's is also a popular place for dining out and for some of its entertainment venues. In Paceville you can find Malta's largest cinema complex, a bowling arena, a shopping complex, plenty of hotels and a small man-made beach at St. George's Bay.
A short drive west takes you to another popular tourist spot called St. Paul's Bay. This is another great place where a lot of families stay, and its packed with shopping malls, streets lined with cafes and restaurants, and it has a big club scene much like St. Julain's.
How to get there: 15 minute drive from Valletta. Buses 14 and N13 from Valletta take just 25 minutes. 
How big is Malta?
Have you ever wondered how Malta compares with other countries and popular island destinations? This post is packed with visual comparison maps showing just how big Malta is compared to places like Ibiza, Cyprus, Bali, Hong Kong, and even the Isle of Wright.
7. Family Day out at Popeye Village

The Popeye Village at Anchor Bay is a children's water park that used to be the film set for the 1980 Popeye TV show.
The set is still there, the bay is quiet scenic except for the water park which kinda spoils the views at certain angles.
Popeye Village is among the top things to do in Malta for families. As one of the main tourist attractions on the island, so its the perfect place to bring your kids for an exciting day out.
Before you get back on the bus, walk up to the cliff edge to get a spectacular panoramic view of Anchor Bay from high up.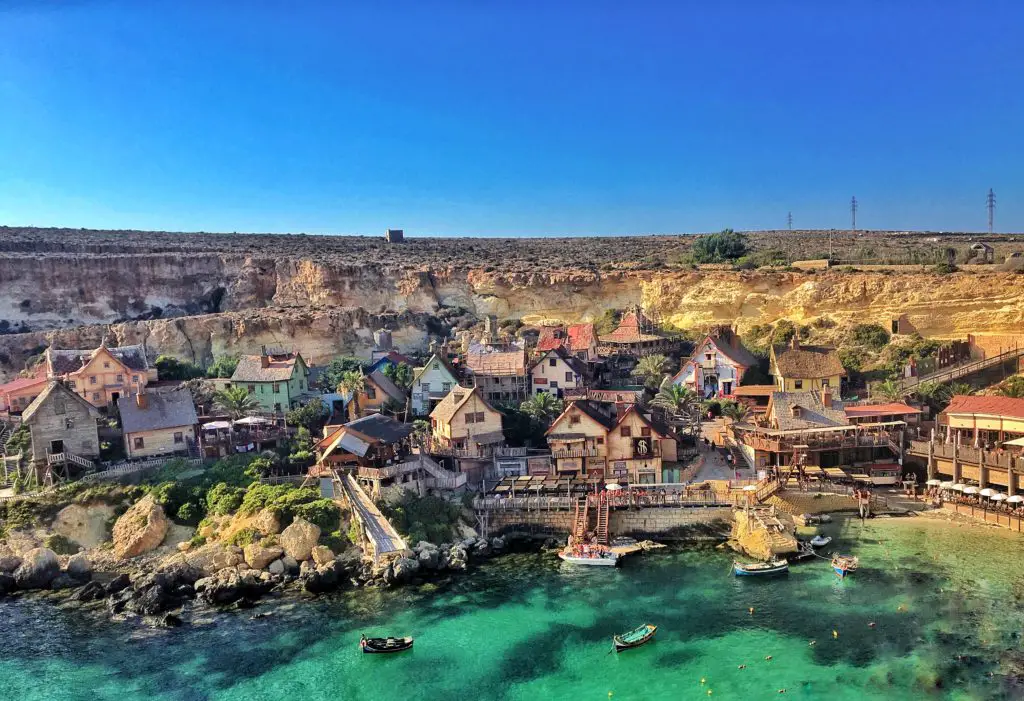 Useful Tips:
How to get there: Bus 101 from Valletta or Mellieha
Admisison: €17 per person. However, we got free entry when we told reception that we're both deaf.
Opening Times: 9:30am – 7pm
8. Panoramic views at Golden Bay & Ghajn Tuffieha

The stretch of coastline on the western side of Malta features one of the best beaches you will find on the island; Golden Bay.
It's also one of the few sandy beaches on Malta. Along with Ghajn Tuffieha, this is the perfect place to trek along the marvellous vast coastline and witness the stunning panoramic views.
In the morning it's quieter, a good time to lay in the sun and chill in the cool shallow sea.
Tip: Its worth basing yourself in nearby Mellieha or Paceville for a few nights to make the most of the western part of Malta island. 
How to get there: Bus 14 takes an hour from Valletta
Don't forget to bring appropriate footwear
Trekking Malta's stunning coastlines and open caves will require you to wear appropriate footwear. Since the rocks are quite sharp, flip flops is not suitable. You are better off bringing a decent pair of strong, sturdy sandals or hiking shoes that will last you years of travels.
My favourite sandals are by Birkenstock – a leading brand of outdoor footwear. Be sure to get your pair on Amazon (US)  |  Amazon (UK)
9. Canoeing & Snorkelling in Armier Bay & the Open Caves
Perhaps the most popular spot to enjoy water activities in Malta is at Armier Bay and Little Armier Bay.
These large bays have calm, shallow waters which are crystal-clear, perfect for snorkelling around the reefs.. There are also boats docked here, which for €30, you can hire a 2-person canoe for two hours.
If you ever hire the canoe, be sure to explore the open caves at the Coral Lagoon nearby – one of Malta's hidden gems!
It's also worth trekking up over the caves afterwards to see the mesmerising blue waters of the Coral Lagoon from a different angle. It's a bit of a walk over the harsh rocks (strong comfy footwear is recommended!) but it's so worth it – the views took our breath away.
10. Trek to Tal Mixta Caves on Gozo Island
Malta's sister-island Gozo is a more rural and scenic place, well-known for the Azure Window which unfortunately no longer exists as it collapsed into the sea in 2017.
Still, with its historic Megalithic temples and ruins, its salt pans, many beaches and diving sites like the Blue Hole, it's well worth a day trip or two.
One of my favourite spots is the Tal Mixta Cave, situated on the northern coast of Gozo island. Well-worth the visit, once you climb up into the cave, you'll witness a breathtaking view of the coastline, including the bright orange sands at Ramla Bay – one of the best beaches on Malta and the best spot for sunbathing on Gozo.
Personally I think Gozo – and in particular the Tal Mixta caves – is one of the best places you can visit in Malta.
While you're on Gozo, take a stroll around the island's main city, Victoria, for a glimpse of a more authentic and traditional Maltese lifestyle – away from the crowds and noise of the main island.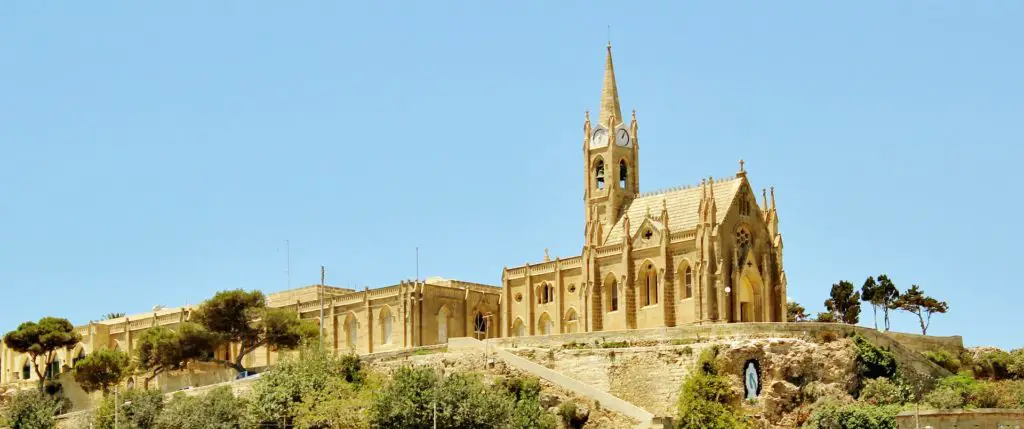 Useful Tips:
How to get there: Bus numbers 41, 42, 221, and 222 from Valletta Main Terminal goes straight to Cirkewwa ferry port.
Admission: Ferry from Cirkewwa to Gozo island costs €10.
Opening times: Ferries operate from 8am until 6pm
What to bring: backpack with water, sunblock.
So there you have it – the Top 10 Best Things to Do in Malta.
Malta has something for everyone – it's the perfect holiday paradise for the budget traveller and the luxury traveller alike, for families or backpackers, solo and couple travellers.
Indeed, Malta is fast becoming one of Europe's hottest holiday destinations.
My Recommendations:
Mdina and Rabat – these are two of the best places you can visit in Malta. The two historic cities are adjacent to each other and are quite small, making them easy to navigate on foot, within a couple of hours each.
Is Mdina Malta worth visiting?  Mdina is known as the 'Silent City', due to its very small population. It's also filled with hidden alleyways and some of the best instagram spots you'll ever find on Malta.
The Blue Grotto – not only for the breathtaking views of the cliffs and aqua green waters, this is a great spot for jumping into the waters and relaxing in the sun, as well as taking a boat ride into the open caves.
Further Reading: Malta: Why You Need To Visit
Here's a superb travel video in 4K of 10 Amazing Places to Visit in Malta, by Joyeous Travel:
Top 10 Bars & Cafes in Malta
Based on food quality, decor, and pricing (budget to mid-range)
Top 10 Restaurants in Malta
Based on food quality, decor, and pricing (budget to mid-range)
Don't forget to book travel insurance
It goes without saying really that when you travel in Europe and beyond, travel insurance is super important.
I never always bothered though. For years I travelled without insurance as I thought, "what could happen?"
Well, I once got my bag stolen in Vietnam and I had an electric shock in a hostel bathroom in Mexico. What if you're cycling in the street and your appendix suddenly bursts, leaving you in excruciating pain and requiring emergency treatment? Anything could happen.
I use World Nomads for comprehensive cover and convenience at great prices on all my travels, and I never set out without it.
Commonly asked questions about Malta:
Malta Day Trips and Activities on Get Your Guide:
Check out some excellent deals on tickets for the most popular day trips and activities around Malta and Gozo. (Remember, you can cancel your bookings at anytime!)
Malta Travel Guides
For more in-depth reading on Malta and Gozo, you can get your hands on a copy of these bestsellers below:
Looking for budget accommodation in Malta?
Click here for a list of excellent accommodation options on the Booking website on where to stay in Malta for all budget types.
Some of the best places to stay in Malta include: St. Paul's Bay, St. Julian's, and Sliema – these are all very family friendly.
Travelling to Malta soon?
Book Your Trip to Malta: Budget Tips & Tricks
Flights:
As always, I source the cheapest flights on the web from Skyscanner and Kiwi.com. They are considered the top flight search engines for the best deals.
Accommodation:
I use Booking to find fantastic cheap stays with free cancellation options. 
Travel Insurance:
Travel insurance will protect you from theft, injury, illness, and cancellations. A safety net in case anything goes wrong, I never leave without it. World Nomads is my favourite agent for total peace of mind.
Tours:
I book all my fave activities and guided tours on Get Your Guide & Viator – they do superb deals whilst offering excellent customer support.
Head over to my Travel Tools page for all my best travel tips & advice and everything you need for your trip.
I hope you enjoyed reading my post: 10 Best Things to Do in Malta (2022 Edition), and feel inspired to visit one day.
Let me know your thought in the comments!