My epic travels across North India was by far one of the most incredible and memorable experiences of my life. This opened a new chapter in my life that changed the way I viewed the world.
Meeting people of different backgrounds, I lived and worked with people at opposite ends of the class spectrum in India – giving 1-to-1 English tuition to two deaf girls from a wealthy Punjabi family in Patiala, and also to a young boy from a dirt-poor village on the hilly outskirts of Dehradun.
India is an incredibly vast and diverse country, there are different climates in different regions, more languages than you can imagine, and various different customs and traditions.
India is pretty much divided into north and south. But when you scratch beneath the surface, you discover that India is in fact an enormous union of different peoples and cultures.
 

"Be as simple as you can be; you will be astonished to see how uncomplicated and happy your life can become."  – Paramahansa Yogananda
Even though I lived in the northern region of India for five months, I still had only a glimpse of exploring the wonder and awe of this country.
Scroll on to read: My First Visit To India: by a Deaf Travel Blogger
Disclosure: This post contains affiliate links. That means if you click and/or make a purchase, I receive a commission. Don't worry, this is at no extra cost to you.
My First Visit To India: by a Deaf Travel Blogger
A Vast Country, Rich with Culture and Diversity
Let me give you an example of the enormity of India.
In December 2014 I was in Chandigarh, North India, where its rather cold in the winter. In fact it was absolutely freezing – I was layered up, even indoors I was wearing an expensive Kashmiri shawl made from Yak wool, yet my hands and feet were still cold.
Then on Boxing Day, I travelled south – crossing the Indian sub-continent, all the way to Goa, a 30-hour journey, on a sleeper train.
This was my first time on a sleeper-train, the experience was a surreal and exciting adventure in itself. It was like I'd arrived in an entirely different country.
I stepped off the train and was hit by the heat and humidity of the Goan evening air, and this is by the sea – still much cooler than inland!
Goa isn't even the southernmost state – there are two more states further south. Imagine how HOT it must be down there, in winter!
From all my memorable trips in North India, I have collected the best tips in the various regions and compiled itineraries which you can read in the following links:
North India Itineraries:
Landing in the Capital: New Delhi
Delhi and New Delhi are technically different – New Delhi is the official Capital city within Delhi – which is the broader district that comprises of several regions.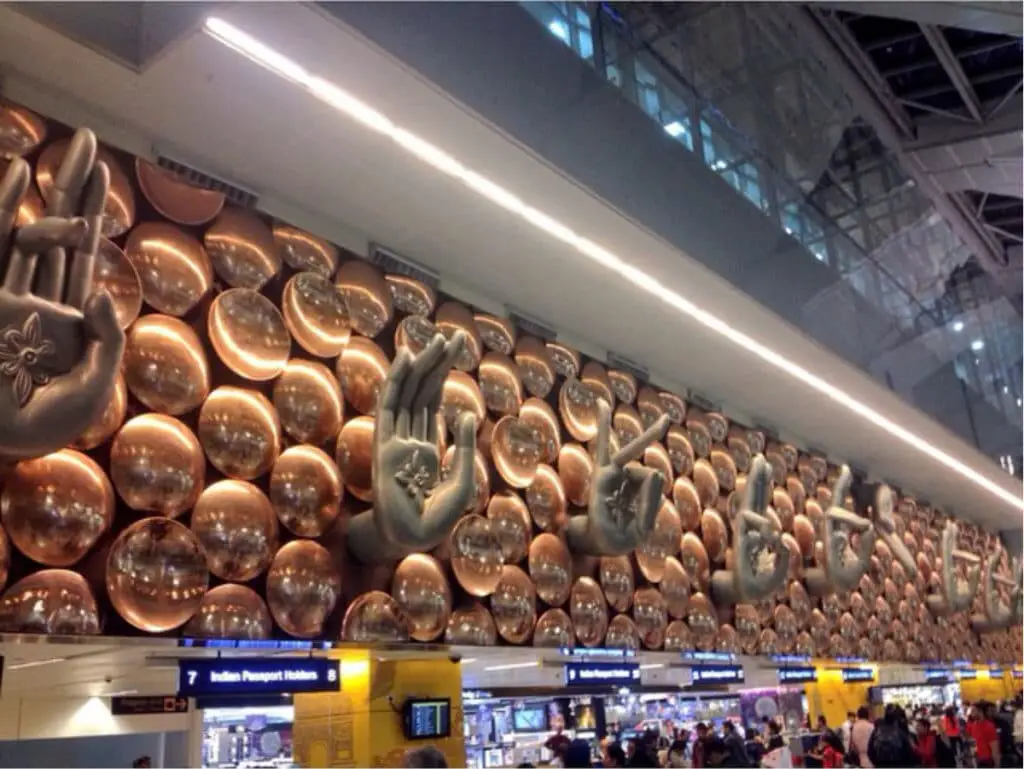 Did you know: Delhi's main airport; Indira Gandhi International Airport, was voted the fourth best airport in the world in 2010 (by Airports Council International)

I have compiled more fascinating facts about New Delhi here: 15 Interesting Facts About New Delhi
Indira Gandhi International airport is the main port of entry for most people visiting India, just outside of Delhi.
As always, when visiting a new country, I am buzzing with excitement before the plane has landed.
On the descent, I look out the window with anticipation, like an excited little boy on his first flight experience, and I see the city lights of Delhi's low-rise structures below, growing bigger, under a blanket of smog barely visible in the night.
Upon arrival, I'm welcomed by the friendly faces of Indian airport staff. The atmosphere has a smell of warm humidity in the airport.
As I approached the immigration gate, I was welcomed by the sight of enormous golden hand structures on the high walls that stretched across the main arrivals hall.
Each one of these hands depicted a different gesture, a symbol of the Mudras – which is central to various traditional Indian dance forms. I stood for a moment in utter amazement at this spectacular work of art.
I was greeted by a friend at the airport whom was Deaf like myself, and we took a cab to his home. As this was my first time in India, I was in for a shock at just how wild and rough the roads are.
Indian Roads: Unlike ANY Road Network on Earth!
In the city you'll see various animals everywhere on the roads. Wild dogs, monkeys, and cows, literally roam about, crossing the roads and sometimes even just sitting in the middle of the road.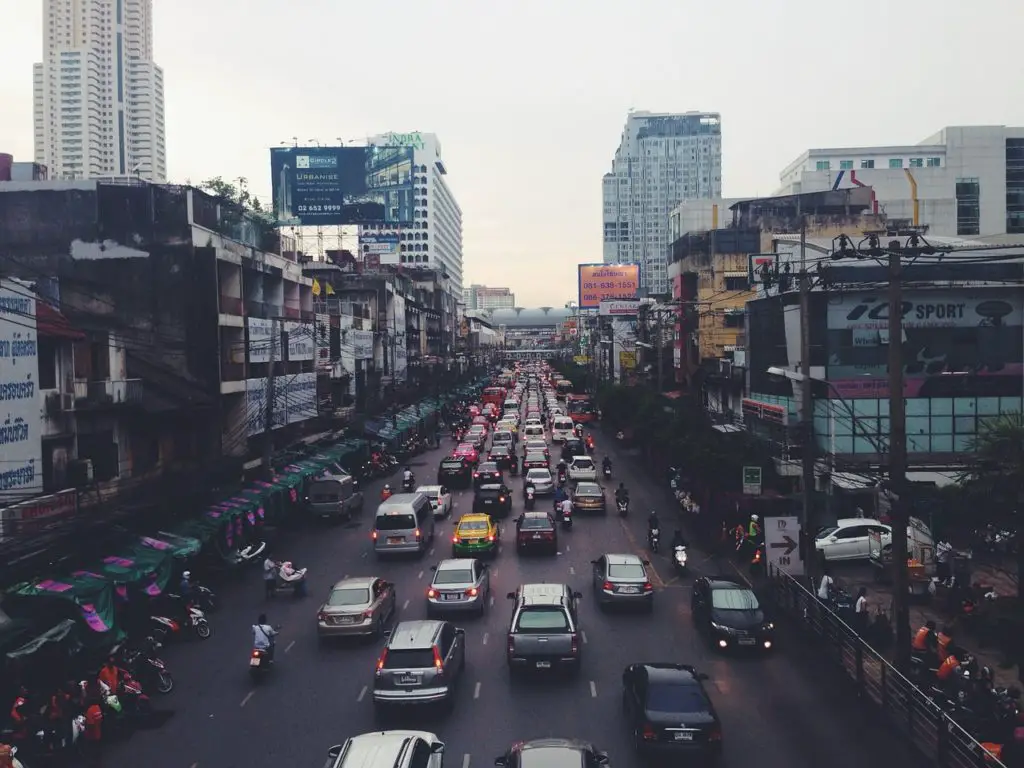 Drivers and bikers are constantly beeping their horns and making sudden swerves as they avoid cows that LITERALLY just stroll along and sit down to nap on the road, without a care in the world, whilst vehicles roar past them just inches away!
Some drivers even curse and shake their fists in frustration at the calm cows that are blocking their way. I found this quite funny.
The roads are divided into lanes like in most major cities, but I noticed that nobody EVER stays in their lanes.
In a three-lane road, there are actually FOUR queues of moving transport of all kinds imaginable – from tricycles to buses, auto-rickshaws to tankers, from old-fashioned, dusty carts led by horses, to glistening white, luxury German exports.
Everyone was overtaking, undercutting, jumping red lights and swerving around crowds of people that walk along the side of the roads (there's no footpaths on many of the city roads), and basically just scrambling to get in front of one another. And all this at speed too.
I was fascinated by the sheer chaos of it all. India has simply the most INSANE roads I have ever seen and travelled on in my life!
Good to know:
Since you are a visitor in India, the drivers will try to rip you off! So if you know where you're heading to, and how long it should take by Google Maps estimates, it's worth negotiating a price, and it should NEVER cost you more than 200-300 Rs for the average single fare!
I once saw a tourist arrive at his destination, step out the auto rickshaw, and casually hand the driver 1,500 Rupees (£15)! I was gobsmacked.
Tip: If you know a local (or befriend one on your trip), ask them to hail an auto rickshaw for you. Keep your distance a bit, and act like you don't know the local friend. When you see them agree on a price, get in the auto rickshaw. As the driver thought he was picking up a local, he would've negotiated a fair price!
This shows how clueless many tourists are, so it's important to do a bit of research and prepare your trip beforehand.
A Warm Welcome To Delhi..
Having arrived at my friend's home at last, I am still shaken by that 30-minute taxi ride from the airport.
It definitely took some getting used to.
Now I am having some delicious daal and rice, and catching up with my friend Sandeep and his two kids, before settling down for the night, ready for an exciting new day in India.
As with most places I visit, I didn't really sleep properly on my first night in India.
My mind was bursting with thoughts, and I was still getting used to being in a totally different country – adapting to the climate, the different bed, the sounds outside, and so on.
I spent a week in Delhi getting accustomed to the culture, foods, and atmosphere, seeing the historic sites of The Qutab Minar, Red Fort, The Lotus Temple, and many more iconic landmarks.
My post: New Delhi: A Complete 3 Day Itinerary offers a detailed guide on covering the best spots of New Delhi whilst sampling some of the most delicious the city has to offer, all in 3 days.
Next Stop: Chandigarh and the Punjab
From Delhi, I left for the northern city of Chandigarh – about a 5-hour train ride away.
I was in Chandigarh to meet a Deaf Punjabi friend whom I stayed with.
I also met the local Deaf community, and was a guest speaker in a presentation by Deaf Welfare Association of India.
After a few days here, I travelled further north-west, into Punjab state, to the small town of Patiala. I spent a couple of weeks living with a Deaf Punjabi guy named Jagdip, and his family.
My time with this charming family was an enjoyable and educational experience.
Each evening here, I taught English and Maths to Jagdip's two Deaf daughters. In return, Jagdip showed me around his town.
I got to see the factory where he worked at, the Deaf school where his wife teaches, the Punjabi sweet shops, and the massive fields of saag.
The Bull in the Market Incident
On the way home one evening, Jagdip took me to an outdoor fruit and veg market to buy some fresh groceries.
It was fascinating how different the markets are here compared to home – there's a vast range of various different vegetables which I'd never seen in my life, most of the produce is laid out on mats on the ground.
And a strange incident happened here.
I was standing in the middle of the path in the market, observing the different vegetables, when I felt something shove me in the back.
I turned to look, and was taken by surprise – a full-grown BULL just nudged past me!
It literally strolled into the market, casually checked out the produce on display, and attempted to EAT some of the vegetables on the mats!
The guys on the stalls attempted to shoo at the bull with sticks as it walked past.
The bull was unfazed though – he swaggered through the market, managed to grab a bite of some veg, and left through the other gate!
This reminded me that cows in north India are sacred – they are free to roam anywhere and by law nobody is allowed to touch them!
Patiala Fort
I also visited some historic sites – including Patiala Fort, with its suspension bridge and artillery sites that were exported from England during the Victorian era.
There was even a statue of Queen Victoria in the fort, beside another statue of Bhupinder Singh, the Maharaja of Patiala, he was one of the wealthiest men in British India and the first Indian to own a private airplane.
The Punjab region is the northwestern-most state of India, bordering Pakistan. In the winter, it's freezing, even colder than Delhi.
It was especially cold at night since there's no heating – as most people in India don't have indoor heating.
Jagdip noticed I was rubbing my hands and shivering, despite being wrapped in Kashmiri cloth. So he gave me a small glass of dark rum, which I drank. And within minutes, I began to HEAT up! Wow.
I felt warmth radiating out from inside, and I could relax and stop shivering.
Amritsar: Golden Temple, Border Guards Ceremony
The highlight of my time in the Punjab, was the Sikh city of Amritsar, and the Border Guards Ceremony that takes place at the India/Pakistan border.
The Golden Temple is the holiest site in Sikhism, and a truly breathtaking place to visit. Its one of the most iconic landmarks in India, and a must-see for all who visit the country.
The Border Guards Ceremony – what is it?
This is a unique event that takes place right on the border between India and Pakistan.
Bear in mind, India and Pakistan are arch-enemies. They have technically been at war ever since Partition in 1947!
There is NO access for anyone to cross either side. All roads and railways end at the border.
WTF?
So, this ceremony at the border is truly something to behold.
Basically, every single day, the Indian Guards and the Pakistani Guards open their gates at the border, in which there is only a painted white line on the road separating the two countries.
It is ILLEGAL for anyone from either country to step over the border.
And within their own respective borders, the Guards give a display of their individual might – by marching quickly up to the line, flexing their muscles and shouting patriotic phrases (ie: JAI HIND!), within INCHES of each other!
Sometimes they will thrust their arm across the border to gesture with a clenched fist!
This ceremony is the ONLY one of it's kind in the whole world – it is an absolute MUST-SEE for anyone visiting India!
---
Book Your Trip to India: Budget Tips & Tricks
Flights:
As always, I source the cheapest flights on the web from Skyscanner and Kiwi.com. They are considered the top flight search engines for the best deals.
Accommodation:
I use Booking to find fantastic cheap stays with free cancellation options. 
Travel Insurance:
Travel insurance will protect you from theft, injury, illness, and cancellations. A safety net in case anything goes wrong, I never leave without it. World Nomads is my favourite agent for total peace of mind.
Tours:
I book all my fave activities and guided tours on Get Your Guide & Viator – they do superb deals whilst offering excellent customer support.
Head over to my Travel Tools page for all my best travel tips & advice and everything you need for your trip.
India Travel Guides
For more in-depth reading on the Yucatan peninsula, you can get your hands on a copy of these bestsellers below:
Travelling to India soon?
I hope you enjoyed reading My First Visit To India: by a Deaf Travel Blogger.
Have you been to India before? What was your first trip like? Tell me about your experiences and let me know what you thought of my post. Thanks!
---
[mc4wp_form id="1032″]