London Dungeons: What To Expect & Ultimate Guide

Hold on to your hats, folks, because we're about to dive into the dark and twisted world of the London Dungeons. If you're looking for a wild ride filled with scares, thrills, and more historical gore than you can shake a stick at, then you're right where it's all at.
Forget everything you think you know about museums – this ain't your granny's exhibition. The London Dungeons is a heart-stopping, pulse-racing, and altogether mind-bending experience that'll leave you wondering why you ever bothered with those boring old history books.
So buckle up folks, and get ready to step back in time and experience the horror of London's past at the London Dungeons.
Scroll on to read: London Dungeons: What To Expect & Ultimate Guide
Planning your trip? Use my favorite resources!
🏨 Accommodation: I recommend Booking.com
✈️ Flights: for the cheapest flights, I use Skyscanner
🚗 Rental Car: I recommend Discover Cars
🛡️ Travel Insurance: for the best deals I rely on SafetyWing
Where is London Dungeons
London Essentials Checklist:
London Dungeons: What To Expect & Ultimate Guide
The London Dungeon is a popular attraction where history comes to life in a creepy, yet entertaining way.
It's where actors put on spine-tingling shows that tell the gruesome and gory tales of London's past, complete with special effects, jumpscares, and interactive exhibits.
But don't worry, they won't touch you – the fear is all in your head (or is it?)
From Jack the Ripper to the Great Fire of London, you'll learn all about the city's dark and twisted past.
So if you're looking for a thrilling, hair-raising experience, the London Dungeon is the place to be!
👉 Short on time? Purchase your tickets today and prepare yourself for an adventure you won't forget anytime soon!
Overview: What is The London Dungeon?
This is not your ordinary historical museum. It's a spooktacular journey through the dark history of London, where you can discover the gruesome history of torture at the London Dungeons with some of the funniest actors you'll ever meet.
Think of it like a thrilling ride with a pinch of edutainment. The London Dungeon is all about bringing history to life with a theatrical touch, full of surprises, special effects, and some thrilling rides. It's like walking into a horror movie, except you're not the one in danger.
So, if you're up for a scare, a good laugh, and some historical knowledge, this is the place to be. You'll need to get ready for scares and thrills at the London Dungeons with an absolute sensory overload. It's not for the faint-hearted or weak-stomached.
Is London Dungeon scary?
Are you ready to face your fears and delve into the dark history of London? Then the London Dungeon is the place for you! But let me tell you, it's not for the faint of heart. This interactive tour is like a haunted house on steroids, with a combination of history, humor, and scary tales that will have you shaking in your boots.
Now, don't get me wrong – the London Dungeon isn't all doom and gloom. In fact, it's a scary yet funny and exhilarating attraction that will leave you wanting more. But if you're afraid of the dark or loud noises, you might want to think twice before venturing into the depths of the Dungeon.
As you make your way through the scenes, you'll encounter actors who will bring the horrifying history of London to life through interactive theatrical performance at the London Dungeons. But don't worry, they're not allowed to touch you in any way – so you can breathe a sigh of relief there.
So is London Dungeons scary? You bet it is. But don't let that scare you off. As the saying goes, sometimes you have to face your fears to conquer them. So why not take the plunge and experience the thrill of the London Dungeon for yourself? Just be prepared to scream, laugh, and maybe even learn a thing or two along the way!
Age Range: Who should visit the London Dungeon?
If you're wondering whether the London Dungeon is appropriate for you or your kids, fear not!
This attraction is suitable for people of all ages, as long as they're not easily frightened or claustrophobic. Bear in mind that there are some areas with enclosed spaces that might make you feel scared.
However, don't worry too much about it. The experience is more like a theatrical history lesson with talented actors in immersive sets giving you a frighteningly funny tour of London's gruesome past.
🥘 Immerse yourself in a culinary world of London
London Dungeon Reviews
From TripAdvisor:
"Absolutely loved the London Dungeon! The actors were amazing and the sets were really impressive. It was a great mix of history and entertainment, and definitely worth the money. Highly recommend!"
"We had an amazing time at the dungeons London! The actors were hilarious and really brought the experience to life. The special effects were also really impressive. Definitely a must-visit attraction!"
"This was such a fun experience! The London Dungeon really knows how to entertain and scare you at the same time. The actors were great and the whole attraction was really immersive. Highly recommend for anyone looking for something unique to do in London!"
From Google Maps:
"Amazing experience! The actors were fantastic and really brought the whole attraction to life. I got to learn about the history of plague doctors at the London Dungeons. The sets and special effects were also really impressive. Definitely one of the best things to do in London!"
"I loved the London Dungeon! It was such a unique and entertaining experience. The actors were so funny and really made the whole thing so enjoyable. I would definitely recommend this to anyone looking for a fun time in London."
➤ Further reading: Here's my ultimate guide on all the Best day trips from London
London Dungeon Tickets
🎈Click here to book your visit to the London Dungeons today!
Alternatively, you can book the London Dungeons as part of a package that includes optional drinks and meals, or as part of a tour of other London museums and major attractions such as the London Eye, Westminster, Madam Tussauds and SEA Life, by using the widget below:
🏰 Explore London with the tours below!
London Dungeon FAQs:
London tourist information
How to get there
The main airports serving London are Heathrow (LHR), Gatwick (LGW), Stansted (STN) and City (LCY). Click here for airport transfers to London.
Getting around London
There are a number of public transport options that link up all the towns and cities within Greater London, as well as the M25 that encircles Greater London with motorways linking the city to the rest of the country.
Cycling: There are new and updated networks of cycle routes throughout the city and nearby boroughs.
Bus: Buses are easy to use and run regularly from numerous stops. An adult trip costs £2 (cards are accepted) and you can use your Oyster Card.
Train: The main stations are Euston, Kings Cross, Paddington and London Bridge and have great transport links to the rest of the UK. You can get a train from London to Birmingham in just 1.5 hours, Manchester in 2.5 hours, Bristol in 2 hours, and Edinburgh in 9 hours.
Car: London's roads are very easy and convenient to navigate. You can hire a rental car here.
Best time to visit London
Early May to late September is the best time to visit, with July-August the warmest months. Rain falls throughout the year, with the wettest month being November, and the driest month being July.
Download your FREE 20-page Travel Planner Guide
And get access to all my best budget travel tips, checklists, additional freebies, and more.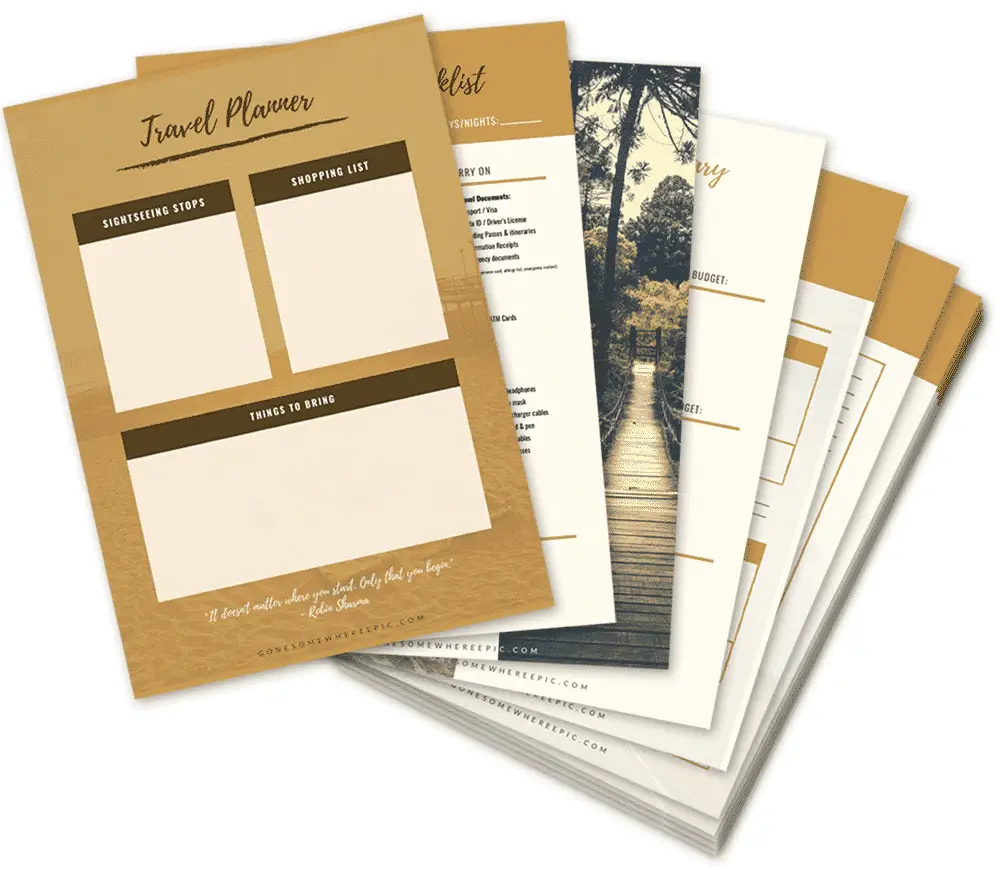 Where to Stay in London:
My recommendation:
🎈Click here to book your stay at The Mad Hatter Hotel today!
Conclusion: Visiting the London Dungeons 2023
And that, my fellow thrill-seekers, is why the London Dungeons is the ultimate destination for those who want to experience the darker side of history.
From torture chambers to plague doctors to the infamous Jack the Ripper himself, this place has got it all. Sure, you might leave with a few more gray hairs than you came in with, but isn't that what life is all about? Taking risks, facing your fears, and coming out the other side with a newfound appreciation for the world around you.
So next time you're in London, forget about the boring old museums and head straight for the Dungeons. You won't regret it – well, maybe just a little bit when you're screaming your head off. But hey, that's all part of the fun!
Are you ready to explore the medieval period and the Black Death at the London Dungeons?
Further Reading: UK
You might also like: