Sri Lanka, also known as the 'teardrop off India', is an island state in the Indian Ocean famous for its dreamy beaches, delicious and spicy cuisine, elephants, and vast, picturesque tea plantations.
The country packs a wealth of history and culture as well as an abundance of tourist attractions – from epic surfing spots to UNESCO World Heritage sites, and the most breathtaking natural wonders dotted around the country such as pretty mountain peaks, a natural fortress built into a rock, and enormous breathtaking waterfalls.
In this post, I've collected together the most curious, fun and amazing facts about Sri Lanka that you probably never knew about. 
Scroll on to read: 25 Fun Facts about Sri Lanka.
This post may contain affiliate links. I will earn a small commission if you use these links.
General Facts about Sri Lanka
#1. Two beautiful nicknames
Sri Lanka has two adorable nicknames: Pearl of the Indian Ocean and Tear drop off India. It gets the names because of its incredible natural beauty, biodiversity, location and shape. The map of the country looks like a teardrop somewhere off the southern coast of India. In the past, it was also known as Taprobane, Serendib, and Celiao.
#2. Adam's Peak
Adam's Peak, also known as Sri Pada, is an important pilgrimage site for Buddhists, Christians and Muslims. It is a 2,243m hike, yet you will see thousands of pilgrims make the way to the top in the Buddha's footsteps before reaching Nirvana and the garden of Eden, where Adam was exiled. 
#3. A remarkable literacy rate
You will be surprised to know that over 92% of the Sri Lankan population is literate and the country has the highest literacy rate in South Asia. Credit goes to the Sri Lankan government which ensures that quality education is being provided in all parts of the country.
#4. The Sri Lankan Flag is the oldest in the world
One of my favourite historical facts about Sri Lanka, is that Sri Lanka's flag dates all the way back to the 5th Century AD, making it officially the oldest flag on the planet. The golden lion on the flag was removed and then reintroduced, holding a golden sword, after Sri Lanka's independence in 1948.
#5. 8 UNESCO World Heritage Sites
This Small Island is also home to 8 UNESCO World Heritage Sites. They are: The Sacred City of Anuradhapura, the Ancient City of Polonnaruwa, the Ancient City of Sigiriya, the Sacred City of Kandy, the Sinharaja Forest Reserve, the Old Town of Galle, Rangiri Dambulla Cave Temple, and the Central Highlands of Sri Lanka. They are all equally popular and an absolute must on any tourist's Sri Lankan itinerary.
#6. Sri Lanka is a Malaria-free country
Previously Sri Lanka – just like many other countries – was
facing the major problem with Malaria and was one of the most affected areas in the whole world. However, the tireless work of the government to eradicate this disease made it Malaria free in 2016.
#7. Civil War until 2009
Sri Lanka has seen much political unrest, which has continued for almost three decades. The civil war started in 1983, and it took 25 years to seize the last Tamil Tiger stronghold. After 2009, the country's tourism industry was finally restored, and people could visit for leisure and recreation.
#8. The world's oldest tree planted by humans
Jaya Sri Maha Bodhi is the oldest tree planted by humans. The sacred fig tree is planted in Mahamewna Gardens in Anuradhapura. It is estimated that the tree was planted in 288 BC, and the Buddhist monks and Kings have protected it over the years. Golden fenced walls and a water canal were built to protect it. Even after intense storms, the tree still stands tall.
#9. Gained much-awaited Independence in 1948
Way back in 1505, Sri Lanka was colonized by the Portuguese empire. And then around 150 years later, the Dutch took control in 1658. Then after another century and a half, the British colonized Sri Lanka in 1796, almost 60 years before they took complete control of the subcontinent in 1858. Finally, in 1948, Sri Lanka gained independence.
#10. The complicated Sri Lankan Flag
Sri Lanka has a complicated flag, and every detail on it signifies something important.
The Lion on the flag represents the Sinhalese ethnicity depicting the bravery and strength of the nation. The sword represents the sovereignty of the nation. The four bo leaves are a symbol of influence of Buddhism and the importance of happiness, kindness and equanimity. The yellow colour on the flag represents different ethnic groups in the country, the orange colour is for the cylinder Kanda Mills, and the maroon represents the Sinhalese majority.
#11. Incredible whale-watching opportunities
The blue whale is the world's largest animal, and can be easily spotted in the seas off many countries. However, Sri Lanka offers the best opportunities for whale watching, and there is a 90% chance of seeing these huge whales between November to April in Mirrisa, located on the south coast of Sri Lanka. You can go for a watching tour and witness Turtles, flying fish, and even killer whales.
#12. The connection between India and Sri Lanka
The geographical sandstone 'bridge' between India and Sri Lanka is known as Adam's Bridge. Hindus believe that it was made by Lord Ram millions of years ago, by an army of monkeys. However, according to archaeologists and scientists it is the formation of sandstone under the sea.
#13. Many universities
The total population of Sri Lanka is only around 20 million, yet the country has 20 universities providing high-quality education. 5 of these are government-owned, and 15 are run privately. Comparing this number with the size of the country, it is indeed quite impressive.
#14. Full of stunning waterfalls
Interestingly, the country has over a hundred waterfalls, which is why most of the electricity produced in Sri Lanka is supplied by hydropower plants, which channel the energy produced by the water falling from tremendous heights.
#15. Respect The Buddha
Residing in or visiting Sri Lanka comes with one golden rule: to respect the Buddha. Taking pictures or displaying tattoos of Buddha is also considered disrespectful, and many tourists have been deported for such behavior.
#16. The largest gathering of elephants in Asia
The Minneriya National Park of Sri Lanka used to be the largest gathering site of elephants in Asia. The elephants from the surrounding areas came to this reservoir during the dry season, with about 300 elephants enjoying the park at a single time, making it quite a spectacular site for elephant watching.
#17. The Temple of the Tooth
One of the more peculiar Sri Lankan culture facts is about the Temple of the Tooth – the most sacred site in the whole of Sri Lanka. It is of prime importance for the followers of Buddhism because it is said to have an actual tooth of Buddha.
#18. The cuisine of Sri Lanka
One of my favourite facts about Sri Lankan food is that the diverse history of the country has led to a mixture of Indian, Persian, Arab, British, Portuguese, and Dutch influences that have given Sri Lanka a unique cuisine. As such, it offers some of the spiciest food in the world,  and also some of the yummiest. The national dish is Kottu roti.
#19. Shaking their head means Yes
In most countries around the world, if someone nods their head, it means yes, and if they shake their head from side to side, it means no. However, in Sri Lanka it works the opposite. If you see a Sri Lankan shake their head from side to side, it might mean yes. Pretty confusing! Right?
Sri Lanka facts for kids
#20. Sri Lanka is the 123rd largest country
The small island nation spans over 24,212 square miles (65,610 square km), making it the 123rd largest by land area. By comparison, it is slightly larger than the US state of West Virginia, and is only slightly larger than Lithuania.
#21. The world's first female Prime Minister
Sri Lanka also bagged the credit of having the first democratically-elected, female prime minister. Sirimavo Bandaranaike served as prime minister of Sri Lanka three times, before then becoming president.
#22. The national sport of Sri Lanka
Most people think that cricket is the national sport of Sri Lanka. The sport entered the country in the 1800s after British colonization. Believe it or not though, volleyball is the national sport of Sri Lanka, even though it wasn't introduced to the country until 1916.
#23. A 1,340km long coastline
Sri Lanka is an island with an impressive 1,340 km long coastline packed with stunning white sand beaches offering a superb range of water sports like surfing, snorkeling, jet-skiing and scuba diving.
#24. Tea is the largest export of Sri Lanka
Sri Lanka is famous for exporting high-quality tea around the world. As of 2014, 12 per cent of the country's export was tea products. It is the fourth largest tea exporter in the world and is also famous for the cleanest tea leaves in the world as per the ISO guidelines.
#25. The origin of Cinnamon
Cinnamon is one of the most popular spices used in a wide variety of foods, like French croissants and Indian curries. Cinnamon was first discovered in Sri Lanka by the Egyptians back in 2000 BC. About 80-90% of the world's cinnamon still comes from Sri Lanka, so we must be appreciative of them for distributing this wonderful spice.
So there you have it – 25 of the most fascinating, curious, and fun facts about Sri Lanka.
I hope you find this post an informative read, and that it inspires you to visit this amazing country some day!
Further Reading: More Facts Posts
Sri Lanka Wiki Facts:
General Information
More information, statistics and general information about Sri Lanka, updated as of 2023:
Motto: "Sri Lanka Matha" (Mother Sri Lanka)
Government: Unitary semi-presidential republic
President: Ranil Wickremesinghe
Prime Minister: Dinesh Gunawardena
Independence from United Kingdom: 4 February 1948
Land area: 65,610 km2 (25,330 sq miles) (rank: 120th)
Capital city: Colombo (executive and judicial), Sri Jayawardenapura Kotte (legislative)
Population: 21,597,766 people (rank: 57th)
Currency: Sri Lankan Rupee (LKR), (Rs)
Languages: Sinhala, Tamil, English
Religions: Buddhism (70.2%), Hinduism (12.6%), Islam (9.7%), Christianity (7.4%).
National Holiday: Sinhala and Tamil New Year, 13-14 April
Highest Mountain: Pidurutalagala, 2,524m (8,281ft) 
Largest Lake: Parakrama Samudra, 22.6km2
National Dish: Kottu roti
National Flower: water lily
Member of the UN: Yes
Official Website: www.gov.lk
Time zone: UTC+5:30 (SLST)
Driving side: left
Country Number/Prefix: +94
Country Code: LK
10 Largest Cities in Sri Lanka
Here's the ten largest cities in Sri Lanka. The capital, Colombo, tops the list, followed by Sri Jayawardenepura Kotte, and thirdly is suburban city of Dehiwala-Mount Lavinia, located on within Colombo district.
| | | |
| --- | --- | --- |
| Rank | City | Population |
| 1 | Colombo | 5,648,000 |
| 2 | Sri Jayawardenepura Kotte | 2,234,289 |
| 3 | Dehiwala-Mount Lavinia | 245,974 |
| 4 | Moratuwa | 207,755 |
| 5 | Negombo | 153,670 |
| 6 | Kandy | 125,351 |
| 7 | Kalmunai | 108,696 |
| 8 | Vavuniya | 99,653 |
| 9 | Galle | 99,478 |
| 10 | Trincomalee | 99,135 |
Download your FREE 20-page Travel Planner Guide
And get access to all my best budget travel tips, checklists, additional freebies, and more.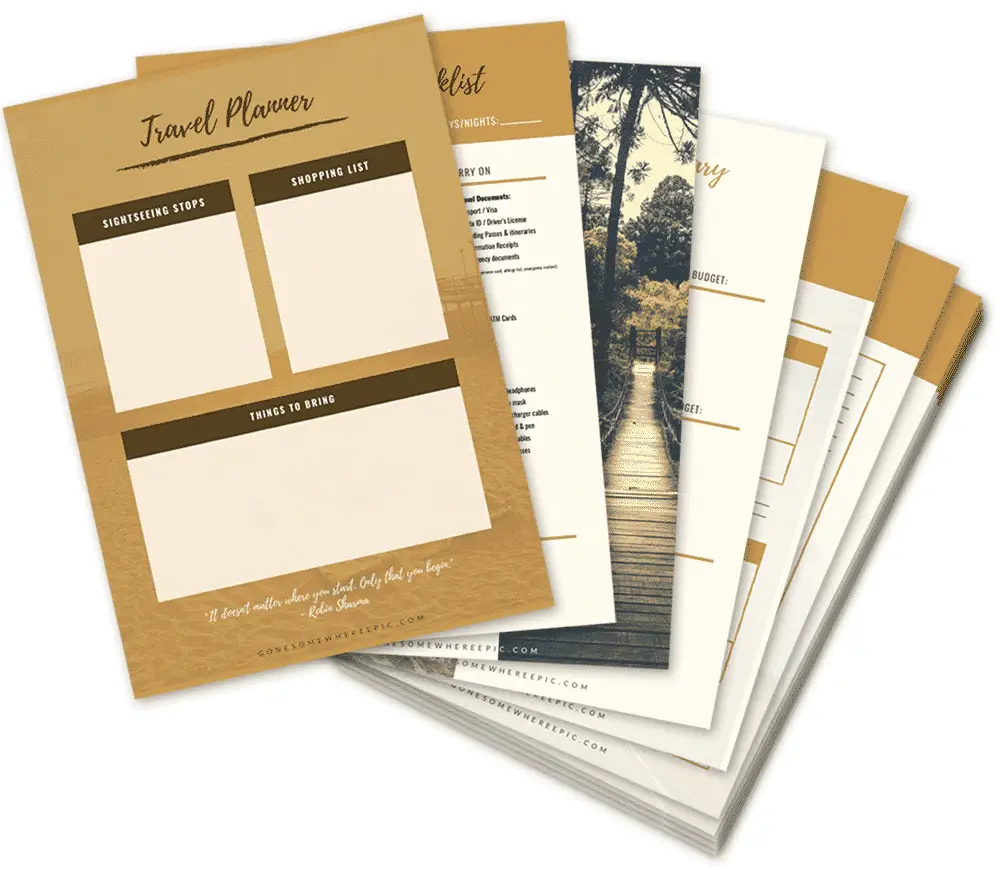 Book Your Trip to Sri Lanka: Budget Tips & Tricks
Flights: As always, I source the cheapest flights on the web from Skyscanner and Kiwi.com. They are considered the top flight search engines for the best deals.
Accommodation: I use Booking for the best hotel deals and HostelWorld for the cheapest stays. If you're considering Airbnb, be sure to check Vrbo to find cheaper vacation stays. 
SIM cards: DrimSim is a universal SIM card that isn't tied to an operator and works in any country/region.
Travel Insurance: Stay protected from theft, injury, illness, and cancellations. A safety net in case anything goes wrong, I never leave without it. World Nomads is my favourite agent for total peace of mind.
Tours & Excursions: I book all my fave activities and guided tours on Get Your Guide & Viator – they do superb deals whilst offering excellent customer support.
Renting a car? I always use DiscoverCars, make sure you book your car hire in advance. For airport transfers, I use KiwiTaxi for the best deals.
Need to store your luggage in a locker? Use Radical Storage to store your stuff in a locker in any city for just $5 per day.
Head over to my Travel Tools page for all my best travel tips & advice and everything you need for your trip.
Thank you for reading: 25 Interesting Facts about Sri Lanka (2023 Edition)
Do you know any other fun facts about Sri Lanka? What's your favourite? Let me know in the comments!