58 Interesting Facts about Ireland (2023 Edition)
The aptly named Emerald Isle – also known as Ireland, and officially Éire, Republic of Ireland, is a charming and picturesque country that sits at the westernmost edge of Europe, right in the Atlantic Ocean, next to Great Britain.
For such a small country with a very small population, Ireland is packed with a wealth of history and culture, and has an enormous influence on the world – from successful Irish musicians, writers and movie stars, to groundbreaking inventions that have revolutionised the modern world.
Did you know: Ireland is the name of the entire island that is made up mostly of the sovereign state of the Republic of Ireland, and also Northern Ireland – a country that is part of the United Kingdom.
There are so many fascinating facts and information about Ireland, so in this post I've put together 53 of the most curious, weird, and lesser-known facts that I'm sure you'll enjoy reading.
Scroll on to read: 58 Interesting Facts about Ireland (2023 Edition):
This post may contain affiliate links. I will earn a small commission if you use these links.
Table of Contents
17 General Facts about Ireland
#1. There were never any snakes in Ireland
The tale of St. Patrick banishing snakes from the Emerald Isle is an age-old legend, but the fact is there have never been any snakes on the island of Ireland, due to being separated by Britain and the rest of Europe by water, they were never able to make it across, obviously. So what did St. Patrick chase out? Pagans.
#2. Around 78% of Irish people are Roman Catholic
While this is a significant decline from 84% in the 2011 census, the country still has one of the highest church attendances in Europe, with 88% of Irish citizens identifying as nominally Roman Catholic.
#3. There are more Irish outside Ireland than in
Ireland has a population of around 5 million, which is still almost four million less than the population before the Great Irish Famine of 1845-1852.
However, its been reported that almost 80 million people around the world have Irish passports – with up to half the population of Australia as well as some 40 million Americans claiming Irish heritage. The reasons behind such enormous emigrations is the famine and the search for better opportunities abroad, particularly in America in the 19th Century.
#4. Ireland is known as the Emerald Isle because of how green it is
More than 30% of the population live in rural areas – higher than the EU average of 27%.
#5. The Irish tricolour flag
The flag of Ireland is a green, white and orange tricolour. The green symbolises the Gaelic tradition of Ireland, the orange represents the followers of William of Orange, and the white signifies the aspirations for peace between the two.
#6. The most popular sport in Ireland is Gaelic football
This is closely followed by Hurling, another ancient Gaelic sport. Both sports are native to Ireland.
#7. English is not the first language of Ireland
Although English is indeed the most widely spoken language in Ireland, with most claiming it as their first language, Irish is in fact the official language. It can be seen on all official government documents as well as public transport, signs, and public buildings. Despite Irish being taught as a subject in schools across Ireland, a lot of people still struggle to hold a simple conversation as gaelige.
#8. Ireland has its own version of the Olympics
One of the more unique facts about Ireland is that it has its own Olympics, known as the Tailteann Games which originated in the country around 1600 BC.
#9. Ireland has had two female presidents, more than most countries in the world
Mary Robinson became the first female president of Ireland in 1990. She was succeeded by Mary McAleese, in 1997.
#10. Ireland was the Titanic's last port of call
The Titanic was built in Belfast, Northern Ireland. While the ship officially left for America from Southampton, England, its last port of call was in Cobh, County Cork. While The Titanic Experience in Belfast is a popular visitor attraction, few people visit the small coastal town in Cork where you will find statues in memory of those who died, as well as a small Titanic Museum on what was once the old railway station.
#11. It took 15,000 Irishmen 3 years to build the Titanic in Belfast, Northern Ireland
Three million rivets held its massive hull together. The cost of a first-class ticket is estimated to have cost at least €89,000 ($106,000 ) in today's currency.
#12. Ireland has one of the world's youngest populations
This is due to the high birthrate, especially within the last 50 years.
#13. 10 million pints of Guinness are produced in Dublin every day
No less than 3 million of those pints of Guinness are brewed daily at the St. James Gate Brewery in Dublin.
#14. Irish surnames that start with 'Mac' mean 'son of'
And Irish surnames that begin with 'O' mean 'grandson of'. An interesting fact I never knew of until now!
#15. Many multinational companies set up offices in Ireland because of low tax rates
Google, Microsoft, Facebook, Twitter, Intel, Apple, and many more large corporate US companies all have their European Headquarters in Ireland.
#16. Wet summers are a real thing in Ireland
They say "it's always raining in Ireland" and they ain't kidding, unfortunately. Ireland has one of the wettest climates in Europe. Take the summer of 2007 for example, it rained in Ireland for 40 days straight!
#17. Ireland ranks 6th worldwide in consumption of beer per person
As of 2021, the Irish consume on average 98.2 litres of beer per year. The Czech Republic continues to rank number 1. Source: World Population Review
10 Strange Facts about Ireland
#18. St. Patrick wasn't Irish
Contrary to popular belief (and despite being the Patron Saint of Ireland), Saint Patrick did not actually originate from Ireland. He was born in Wales around 386 AD, and was captured by the Irish and sold into slavery, working as a shepherd in the west of Ireland. Later in life, he returned to Ireland as a missionary, helping to spread Christianity.
Click here to read: 52 Interesting Facts about Wales
#19. Ireland lacks many common species of animals
This is because Ireland is so isolated from the European mainland. Species that are common in Europe but not found in Ireland include: moles, weasels, polecats, and roe deer.
#20. Ireland is the only country in the world to have a musical instrument as its national symbol
You can see the real harp on which the symbol is based in the Trinity College Library, which dates back to the 15th Century and is one of the oldest harps in the world.
#21. There are more Polish people in Ireland than there are native speakers
One of the more curious facts about Ireland population is that, according to the most recent census, Polish language speakers outnumber native speakers of the original Irish language Gaelic. Source: Irish Central
#22. The President of Ireland has very little power
The true power lies with the Taoiseach, whom is the head of the government. The President's role, as with presidents of many other republics, is of being 'head of state', and performing ceremonial duties.
#23. Citizens receive €2,540 from the President on their 100th birthday
If a citizen is lucky enough to reach the age of 100 in Ireland, they receive a letter and a €2,540 cheque from the President as part of the Centenarian Bounty. On each subsequent birthday, they receive a letter and a commemorative coin. Source: President.ie
#24. Being drunk in public is a criminal offence
Despite the common stereotype surrounding the Irish and their drinking habits, a law passed in 2009 made it illegal to be drunk in Ireland. The only day of the year when this law is slightly bent is, yep – you guessed it, St. Patricks Day, this is simply due to the fact that there aren't enough police officers to monitor the million-plus tourists that pour onto the streets of Dublin on that day.
#25. The Shamrock is NOT the national symbol of Ireland
Though recognised around the world as perhaps the most iconic symbol of Ireland and all things Irish, it is not actually the official symbol, but merely one of the national symbols. The Irish harp is the official National Symbol and Emblem of Ireland, and features on the front of Irish passports.
#26. Ireland is the world's 2nd largest consumption of tea per capita
According to the most recent statistics, Ireland comes second place in consumption of tea, behind Turkey. Source: World Atlas
#27. Nigerians drink more Guinness than the Irish
One of the more unusual facts about Ireland is that while Guinness will always be the country's most famous drink, more of the black stuff is consumed each year in Nigeria than it is back home Ireland. However, the British are the largest consumers of Guinness, which leaves Ireland in third place!
8 Irish Inventions and World Firsts
#28. The White House was designed by an Irishman
In 1792, an Irishman won a competition which led him to designing the White House, where all US Presidents live during their times in office.
#29. Argentina's Navy was founded by an Irishman
The Irish are known for their large diaspora and influence around the globe, and in the 19th Century, Admiral William Brown was the creator of the Argentine Navy and became its first admiral. Today he is hailed as a national hero in Argentina for his attempts to successfully protect the country from Spanish invaders.
#30. An Irishman designed the iconic golden Oscar statuette
The iconic statue that is given at Oscar Awards every year, was designed by Cedric Gibbons in 1928.
#31. Ireland is responsible for many groundbreaking inventions
They include colour photography, whisky distilling, the ejector seat, the guided missile, the hypodermic syringe, the modern tractor, flavored crisps, the portable defibrillator, and rubber-soled shoes, to name a few.
#32. An Irishman invented the submarine
John Philip Holland was an Irish engineer who developed the world's first submarine in the late 19th Century.
#33. Shannon Airport has the world's first Duty Free
Tax-free stores originated at Dublin's Shannon Airport in 1947. Source: npr.org
#34. Ireland was the world's first country to ban smoking in public spaces
In 2004 Ireland became the first country in the world to introduce a countrywide ban on smoking in the workplace and in pubs/restaurants.
#35. Ireland was also the world's first country to legalise gay marriage
In May 2015 an overwhelming majority (68%) of the population of Ireland voted in favour of the new legislation, an event that made headlines around the world. This was seen as quite a progressive step for a country that had only legalised the sale of condoms in 1978, and divorce in 1997.
Popular Post >> Top 10 Things To Do in Malmo, Sweden
12 History of Ireland Facts
#36. Halloween originated in Ireland
The global festival as we know it today, Halloween, has its origins in the ancient Celtic festival of Samhain, when people would light bonfires and wear scary costumes to ward off unwelcome spirits. Samhain is an old Gaelic word which translates as 'darker half', thus marking the beginning of winter.
#37. One of the oldest lighthouses in the world
Constructed in 1172, The Hook Lighthouse in Wexford, is one of the oldest lighthouses in the world, and the second oldest still in operation.
#38. Irish hurling is over 3,000 years old
One of Ireland's native Gaelic sports, it is thought to predate Christianity and even Ireland itself – having come to the island with the Celts.
#39. St. Valentine's ashes are buried in Ireland
The ashes of Saint Valentine, believe it or not, found their final resting place in a shrine inside Whitefriar Street Church, in Dublin city centre. They were brought here from Rome by an Irish Carmelite known for his charitable work, the ashes were a token gift by Pope Gregory XVI. Each year, many couples visit the shrine inside this small church to ask St. Valentine to watch over them and pray for a long life together.
#40. The Irish flag was inspired by the French
The Irish tricolour of green, white and orange represents both Ireland's history and its independence. It was inspired by the French Revolution, but was only first raised high above Dublin's GPO and officially recognised as the national flag after the 1916 rising.
#41. Ireland's oldest hotel has been running for more than 400 years
The Woodenbridge Hotel in Wicklow opened in 1608 and is the oldest hotel in Ireland.
#42. The Union Jack was flown for the first time in Dublin in 1801
On 1st January 1801 the Union Jack was flown in the capital to herald the Union of Great Britain and Ireland.
Click here to read 71 Fun and Interesting Facts about England
#43. Over 1 million Irish died during the Potato Famine
During the Great Famine of 1845 to 1852, otherwise known as the Irish Potato Famine, over 1 million Irish died, and nearly 2 million emigrated as a result, which dropped the population by about 25%.
#44. Cork was once the world's largest exporter of butter
This was mostly to Great Britain and the British Empire, during the 18th Century.
#45. The guillotine was used in Ireland before it was used in France
Another lesser-known fact: many consider the guillotine a French invention, yet the earliest use dates back to 1307 in Ireland – more than 400 years before it became common usage in France.
#46. Dublin once had the largest red-light district in Europe
'Monto' – the district that is now known as Summerhill in Dublin, once had as many as 1,600 prostitutes working at any one time, between the 1860s and the 1950s.
#47. Abortion has been legal in Ireland since 2018
Abortion up until the first twelve weeks of pregnancy has been decriminalised in Ireland since 2018.
Popular Post >> The Ultimate Travel Guide for Malta
6 Tourism Facts & Reasons to Visit Ireland
#48. Irish Castles
There are an estimated 30,000 castles and ruins scattered around Ireland, many of which are quite picturesque, and some are even open for tourists to stay in.
#49. Famous Cliffs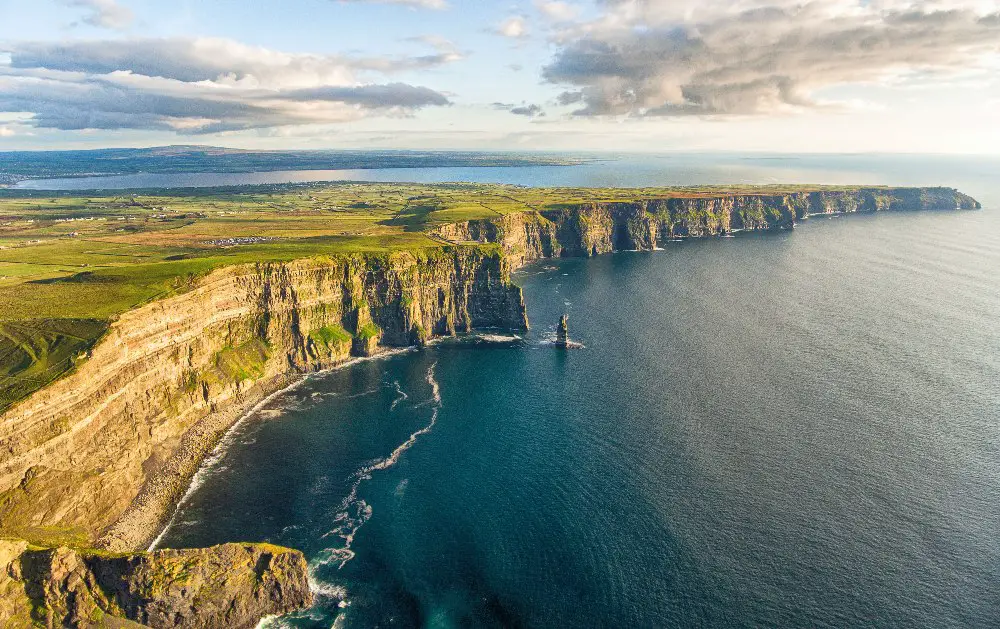 One of my favorite geographical facts about Ireland is that the breathtaking Cliffs of Moher can be seen in the movies Harry Potter and the Half Blood Prince, Princess Bride, and The Mackintosh Man.
If you stop by Killarney, here are the 10 Best Things to Do in the region.
#50. The oldest bar in the world is in Ireland
Sean's Bar, which served its first drink in 900 AD, holds the Guinness World Record for "The Oldest Pub in Ireland" as well as "The Oldest Pub in Europe", however, it is also disputed to be the "Oldest Pub in the World" pending an ongoing research and verification process.
#51. The second highest cliffs in Europe
Craoghaun Cliffs on Achill Island are the second highest cliffs in Europe. The breathtaking cliffs rise 688 meters above the Atlantic Ocean.
Going backpacking in Ireland? Here's a post on everything you need to know.
#52. The world's most extensive Stone Age site
The Céide Fields in County Mayo are the most extensive Stone Age site on earth. It contains the oldest known field systems in the world (6,000 years old), and Europe's biggest stone enclosure, at 48 miles (77km).
#53. Wild Atlantic Way is the longest coastal driving route in the world
The stunning Wild Atlantic Way route stretches all the way from the cliffs around County Donegal, in the far north of Ireland, all the way down to the beaches of County Cork. The 1,552 mile (2,500km) route passes through nine counties and three provinces, and is the "longest defined coastal driving route in the world". Check out the video below of a van life couple documenting their experiences on the Wild Atlantic Way:
Ireland Facts for Kids
#54. Irish Fold Dance
Ireland is famous for its Irish Celtic music and Irish Dance. Most notably, famous Irish Dance companies Riverdance and Lord of the Dance tour the world with their performances and teachings of traditional Irish folk dance and music.
#55. Most people live on the Eastern Coast
In fact, around 40% of the total population of Ireland lives in and around Dublin.
#56. Dublin is the only city with 1m+ inhabitants
The biggest cities in Ireland are Dublin, Cork, Limerick, and Galway. Dublin has more inhabitants than the next 10 cities combined!
#57. Ireland is an Agricultural country
Most of the land in Ireland is used for agriculture (66%), mainly for growing potatoes, wheat, and barley.
#58. There are 80,000 farms in Ireland
Most farmers raise cattle or sheep, with around 7 million cattle raised in the country. The most famous dairy cattle is the Kerry cattle which is native to Ireland. County Kerry is famous for its superior butter and milk as dairy cattle here graze on lush pastures.
So there you have it – 58 of the most curious, fun, and interesting facts about the Republic of Ireland.I hope you find this post an interesting read, and that it inspires you to visit Ireland some day!
More Facts Posts
Further Reading: Ireland
Ireland FAQs:
What are some important facts about Ireland?
Here are 9 things Ireland is famous for:
Saint Patrick – arguably the country's most famous export, despite not actually being from Ireland
Guinness – Ireland's national drink, loved worldwide
Music – some of Ireland's most famous musicians include U2, Van Morrison, Westlife, The Corrs, The Wolfe Tones, and more.
Rugby – the Ireland Rugby Union team is among the best in the world
Racing – Horse racing is a huge part of Irish culture and the country has also produced some of the greatest jockeys ever to compete in the sport
Literature – Ireland is famous for its influential writers and poets including: Oscar Wilde, Samuel Beckett, James Joyce, Cecil Day Lewis, and more
Food – Irish stew, soda bread, and smoked salmon are among the most popular Irish dishes
Football – though not quite in the same league as Brazil or Germany, Ireland has produced some famous footballers including Johnny Giles, Ray Houghton, Roy Keane, and George Best – one of the greatest footballers ever to grace the game.
Movie stars – Ireland has a huge influence in Hollywood – big actors include Cillian Murphy, Liam Neeson, Pierce Brosnan, Peter O'Toole, Colin Farrell, and Saoirse Ronan, to name a few.
What are 5 interesting facts about Ireland?
Here's 5 lesser-known facts about Ireland:
Nigerians drink more Guinness than the Irish
St. Patrick wasn't Irish
Ireland has had two female presidents, more than most countries in the world
Ireland was the Titanic's last port of call
More Irish live outside of Ireland than in.
What is the most interesting thing in Ireland?
The Emerald Isle, known as Ireland, is the 20th largest island in the world, encompassing 84,421 kilometres squared of land. While the country has a population of just 6 million, there are more than 40 million people worldwide with Irish ancestry.
What are 4 Interesting facts about Ireland?
Here are four interesting facts about Ireland:
The official name of Ireland is Éire, Republic of Ireland
There were never any snakes in Ireland
Ireland has its own version of the Olympics, called the Tailteann Games
There are more Polish speakers than Irish speakers in Ireland.
Ireland is one of the wettest countries in Europe, with little sunshine, and frequent cloudiness, which contributes to the low temperatures felt year-round, all over the country. Ireland is also in northwest Europe, and being an island in the Atlantic Ocean, it gets quite windy.
What is so cool about Ireland?
Ireland is made up of vast countryside with small cities, and 30% of the population living in rural areas. There are breathtaking coastlines and picturesque landscapes with ample mountains, countryside and canals. Hence it is known as the Emerald Isle.
According to historians it is estimated that Ireland was first settled by humans approximately 10,000 years ago. Around 4000 BC it is believed the first farmers arrived in Ireland. Farming marked the arrival of the new Stone Age.
Ireland Wiki Facts:
General Information
More information, statistics and general information about Ireland, updated as of 2023:
Anthem: "Amhrán na bhFiann" (The Soldiers Song)
Flag: bratach na hÉireann (the Tricolour)
Government: Unitary parliamentary republic
President: Michael D. Higgins
Taoiseach: Leo Varadkar
Land area: 70,273km2 (27,133 sq miles)
Capital city: Dublin
Population: 4,977,400 people
Life expectancy: 82.35 years
Currency: The Euro (€)
Languages: Irish, English
Religions: Christianity (Roman Catholic, Church of Ireland, Other), Atheism
National Holiday: Saint Patrick's Day, 17th March
Highest Mountain: Carrauntoohil (1,038m)
Largest Lake: Lough Neagh (392km2)
National Dish: Irish stew
National Flower: Shamrock
Member of NATO: No
Member of EU: Yes
Official Website: www.gov.ie
Time zone: GMT / UTC+0
Driving side: left
Country Number/Prefix: +353
Country Code: IE
Largest Cities in Ireland
Ireland has just one city (Dublin) with more than 1 million inhabitants and only two cities with populations that surpass 100,000.
| | | |
| --- | --- | --- |
| Rank | City | Population |
| 1 | Dublin | 1,173,179 |
| 2 | Cork | 208,669 |
| 3 | Limerick | 94,192 |
| 4 | Galway | 79,934 |
| 5 | Waterford | 53,504 |
| 6 | Drogheda | 40,956 |
| 7 | Swords | 39,248 |
| 8 | Dundalk | 39,004 |
| 9 | Bray | 32,600 |
| 10 | Navan | 30,173 |
Enjoyed this post? share it on Pinterest so your followers can enjoy it too!

Thank you for reading 58 Interesting Facts About the Irish Republic.Do you know any other fun facts about Eire? What's your favorite? Let me know in the comments!