Best Places to Visit in October (2023 Edition)
October is the start of fall for many of us (at least in the northern hemisphere), and thus, a month of decreasing sunshine and warmth, while darkness and cold creeps upon us.
Its no surprise many of us want to escape somewhere with warm weather for that last piece of sunny paradise of the year, before we brace ourselves for the long cold autumn and winter months.
Some of us however, prefer to travel to holiday destinations nearer the Equator in October because its cooler with a climate that's much more comfortable, rather than in the peak summer months when it's scorching hot.
Here I've put together a post of the Best Places to Visit in October 2023 – featuring the top 10 sunshine destinations, the cheapest places you can visit on under $30 a day, a list of countries and their average daytime temperatures, and finally a compilation of the best places you can visit, based on the above factors.
With countries slowly opening its borders again, eager to kickstart their fledgling tourism sectors, now is a good time to book that perfect October vacation (on that flexible cancellation ticket, obviously).
Disclosure: This post contains affiliate links. That means if you click and/or make a purchase, I receive a commission. Don't worry, this is at no extra cost to you. 🙂 Thank you for your support!
Table of Contents
Best Places to Visit in October 2023
Where is still hot in October?
While most European countries are already cold and dark come October (with the exception of the Greek islands and the Med in general), there are plenty of places around the world that are sunny and warm all year round, while in the Southern Hemisphere its warming up as summer approaches.
The best places with plenty of tourist attractions and hot weather in October are in Central and South America, Africa, south and southeast Asia, and Oceania.
Take India – it starts to cool down in the north (though not cold), and is hot in the south. Southeast Asia meanwhile, sees their monsoon season come to an end in October, so is quite hot and humid.
Below is a list of warm regions with their average daytime temperatures, hours of sunshine, humidity levels and wind speeds:
The Mediterranean: 73.7F (23.2C)
7.5 hours sunshine per day / Humidity: 24% / Wind: 9mph
The Middle East: 93.2F (34C)
11 hours sunshine per day / Humidity: 24% / Wind: 9mph
Africa: 84F (29C)
12 hours sunshine per day / Humidity: 60% / Wind: 10mph
Southeast Asia: 89.6F (32C)
9 hours sunshine per day / Humidity: 55% / Wind: 6mph
Central America: 91F (33C)
11 hours sunshine per day / Humidity: 78% / Wind: 8mph
Oceania: 75.2F (24C)
8 hours sunshine per day / Humidity: 65% / Wind: 7mph
(Sources: Thomas Cook, timeanddate.com)
Where is good for sun in October?
Here's a list of all the best places to visit in October for sun:
#8 Algarve – Average October daytime temperature: 73.7F (23.2C)
Situated on the southernmost region of mainland Portugal, the Algarve has more sunshine per year than California.
#7 Rio de Janeiro – Average October daytime temperature: 79F (26C)
Famous for its stunning beaches and the world's largest Carnival, Brazil's former capital, Rio, is the country's second-largest city, situated off Brazil's Atlantic coast.
#6 Gran Canaria – Average October daytime temperature: 79.5F (26.4C)
The most popular of the Canary islands, Gran Canaria has 147 miles of stunning coastline and 60 miles of golden beaches. Being warm, sunny and dry, with warm 71F (22C) seas and rarely any rainfall, makes it the perfect place to relax in October.
#5 Paphos – Average October daytime temperature: 80F (26.7C)
Paphos is situated on the southwest coast of Cyprus – the third largest island in the Mediterranean. With 10 hours of sunshine and warm 75F (24C) seas, Cyprus remains hot in October and is the perfect month for water sports.
#4 Koh Samui – Average October daytime temperature: 86F (30C)
One of Thailand's most loved tourist spots, Koh Samui has a very tropical climate like the rest of the country, has very warm seas at 84.2F (29C), and you can expect at least 6 hours of sunshine each day in October.
#3 Marrakech – Average October daytime temperature: 82.9F (28.3C)
A city with a wealth of history and culture, exotic palaces and gardens, and mystic souks and medinas, makes Marrakech one of the most sought-after destinations in the modern tourist age. Marrakech still sees 8 hours of sunshine with very minimal rain and clouds.
How hot is Greece in October?
The average max temperature in Greece is 24C (75F) (average precipitation 53mm). October ushers in cold winds in northern and central Greece mainland, with the temperature falling to 21C (70F), averaging at 16C (61F) and nights are typically cool, dipping to 11C (52F).
#2 The Maldives – Average October temperature: 86F (30C)
This island nation sits in the Indian Ocean where the sea temperature is 82.4F (28C) in this month, perfect for water sports and diving with Manta rays. The wet season finishes in October, though you can still expect high temperatures and plenty of sunshine.
#1 Cancun – Average October daytime temperature: 91F (32.9C)
Mexico's Cancun and the Yucatan peninsula in general cools down to 90F (32C) in October, making it a very appealing tourist spot with the perfect combination of warm seas and hot weather.
Essential Item: As you may know, clean tap water is scarce in many countries. Carrying a Water-to-Go Filter Bottle will help keep you safe by filtering any water you put into it. It will also save you money and help save the planet from plastic waste (bonus!) Get 15% off when you checkout with the code: GIVEME15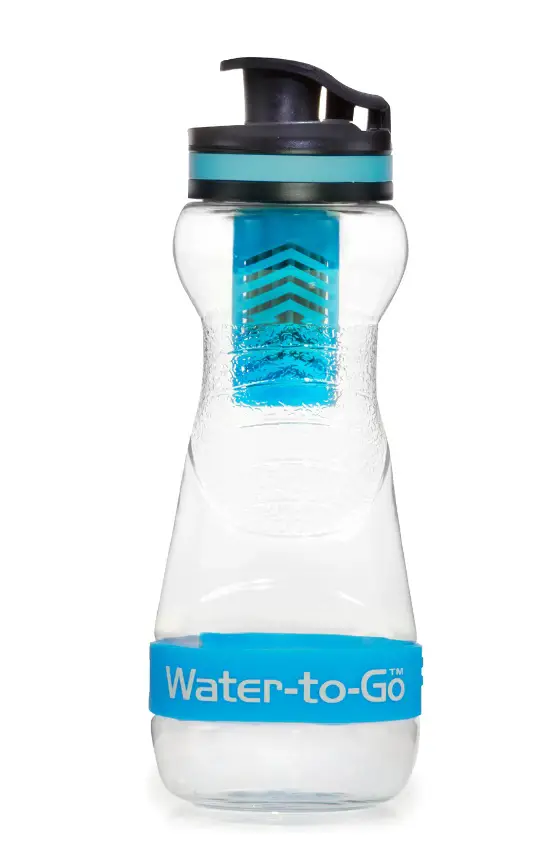 Temperatures Worldwide: How hot will it be in October?
Here's a list of countries and regions, and their average daytime temperatures for October:
Sources: holiday-weather.com, weather-atlas.com, Thomas Cook
North America:
West Coast US – Los Angeles: 69.8F (21C)
East Coast US – New York City: 57.2F (14C)
Southern US – Orlando: 84.6F (29C)
Canada – Toronto: 51.8F (11C)
Mexico – Yucatan: 91F (32.9C)
The Caribbean – Cuba: 80.6C (27C)
South America:
Brazil – Rio de Janeiro: 79F (26C)
Argentina – Buenos Aires: 64.4C (18C)
Bolivia – La Paz: 60.8F (16C)
Colombia – Bogota: 62.6F (17C)
Peru – Cusco: 69.8F (21C)
Chile – Santiago: 73.4F (23C)
Asia:
Middle East – Dubai: 98.6F (37C)
Central Asia – Kazakhstan, Kyrgyzstan, Uzbekistan, Tajikistan, Turkmenistan: 57.2F (14C)
Russia – Moscow: 41F (5C)
India – Delhi: 84.2F (29C)
Sri Lanka – Colombo: 89.6F (32C)
China – Beijing: 66.2F (19C)
Hong Kong: 79F (26C)
Japan – Tokyo: 68F (20C)
Taiwan – Taipei: 75.2F (24C)
Korea – Seoul: 55.4F (13C)
Philippines – Manila: 87.8F (31C)
Vietnam – Hanoi: 77F (25C)
Thailand – Bangkok: 87.8F (31C)
Myanmar – Bagan: 89.6F(32C)
Malaysia & Singapore: 89.6F (32C)
Indonesia – Bali: 89.6F (32C)
Oceania & Pacific:
Australia – Sydney: 73F (22.7C)
New Zealand – Auckland: 59F (15C)
Polynesia – Hawaii, Tonga, Fiji, French Polynesia: 75.2F (24C)
Europe:
UK – London: 55.4F (13C)
France – Paris: 53.6F (12C)
Germany – Berlin: 55.4F (13C)
Denmark – Copenhagen: 50F (10C)
Austria – Vienna: 57.2F (14C)
Switzerland – Basel: 55.4F (13C)
Poland – Warsaw: 55.4F (13C)
Portugal – Algarve region: 73.7F (23.2C)
Spain – Madrid: 59F (15C)
Italy – Rome: 72.3F (22.4C)
Greece – Athens: 66.2F (19C)
Turkey – Istanbul: 60.8F (16C)
The Mediterranean – Balearics, Cyprus, Malta, Crete, Sicily: 79F (26C)
Norway – Oslo: 44.6F (7C)
Sweden – Stockholm: 46.4F (8C)
Finland – Helsinki: 43.8F (6.6C)
Iceland – Reykjavik: 39.2F (4C)
Eastern Europe – Slovakia, Ukraine, Romania, Bulgaria: 42.8F (6C)
The Canary Islands – Gran Canaria, Lanzarote, Tenerife: 79.5F (26.6C)
The Balkans – Croatia, Bosnia & Herzegovina, Serbia, Macedonia, Montenegro: 62.6F (17C)
Baltic States – Estonia, Latvia, Lithuania: 44.6F (7C)
Africa:
Egypt – Sharm El Sheikh: 82.4F (28C)
Morocco – Marrakech: 82.9F (28.3C)
Tunisia – Tunis: 82.4F (28C)
Algeria – Algiers: 77F (25C)
Kenya – Nairobi: 77F (25C)
Ethiopia – Addis Ababa: 73.4F (23C)
Tanzania – Dar es Salaam: 86F (30C)
Madagascar – Antananarivo: 80.6F (27C)
South Africa – Cape Town: 82.4F (28C)
Senegal – Dakar: 86F (30C)
Ghana – Accra: 84.2F (29C)
Cheapest places to go in October (under $30 a day)
The following countries are among the cheapest countries you can visit on less than $30 a day.
Source: daily costs aggregated and averaged from thousands of real travelers on Budget Your Trip
Asia:
1. Cambodia – Daily Average: $13 (budget), $34 (mid-range)
2. Vietnam – Daily Average: $15 (budget), $40 (mid-range)
3. India – Daily Average: $10 (budget), $30 (mid-range)
Budget Tip: enjoy FREE food and accommodation in India! Yep, you can use coach surfing in India, and there are homestays in places like Amritsar, that provide free stay and food. If you visit the Golden Temple there, they serve free food all day long.
4. Laos – Daily Average: $11 (budget), $28 (mid-range)
5. Sri Lanka – Daily Average: $13 (budget), $37 (mid-range)
Europe:
6. Serbia – Daily Average: $10 (budget), $23 (mid-range)
7. Georgia – Daily Average: $6 (budget), $16 (mid-range)
Georgia costs less than 10 US Dollars a day!
8. Armenia – Daily Average: $8 (budget), $19 (mid-range)
Armenia also costs less than 10 US Dollars a day!
South America:
9. Bolivia – Daily Average: $11 (budget), $27 (mid-range)
Central America:
10. Mexico – Daily Average: $19 (budget), $52 (mid-range)
Africa:
11. Morocco – Daily Average: $17 (budget), $41 (mid-range)
12. Ethiopia – Daily Average: $13 (budget), $38 (mid-range)
Read my full post on the Cheapest Countries You Can Visit on Under $35 A Day
Where is it cheaper to fly in October?
Here's the top cheap flight fares from the US in October (according to Skyscanner):
Los Angeles to London: $527 return
Los Angeles to Vancouver: £231 return
Miami to Cancun: £172 return
Miami to Madrid: $471 return
There are several countries around Europe that require a bigger daily budget than Asian destinations, but have surprisingly cheap air fares.
You can fly within Europe for as low as $30 return, to cities like Amsterdam, Lisbon, Sofia, Vienna, and Bratislava. I once booked a return flight to Belgrade from London costing just $18. That said, these cities are quite cold in October, which is one reason for the cheaper air fares.
Jack's Flight Club scours the internet for the cheapest fares including discounts and hidden offers, and error fares. Click here to get all the latest alerts and emails on the cheapest flight deals to anywhere in the world.
Security Tip: When travelling in Bali, or anywhere else for that matter, I always wear my Zero Grid Travel Security Belt – comes with a hidden money pouch that's incredibly useful for stashing away my cash so even the smartest pickpockets don't stand a chance. It comes with an adjustable, non-metal buckle too. Purchase yours on Amazon

Annual Festivals & Events in October
Below is a list of the major festivals and events that happen every October, all around the world:
Oktoberfest – 16th September til 3rd October 2023
Perhaps the most famous event in October (after Halloween) is the traditional two-week German beer festival known as Oktoberfest – a time to eat, drink and be merry! While it's a huge event in Munich, Bavaria, it's also celebrated worldwide, so you can participate at a local event, if not in Germany. This year it falls on 18th September and ends 3rd October (date varies each year).
International Coffee Day – 1st OctoberThis day honours the recognition of millions of people across the world including farmers, roasters, baristas and coffee shop owners who work tirelessly to create and serve the much-loved beverage.(Related: World Frappe Day falls on 4th October)
Chinese Moon Festival – Friday 29th SeptemberThe Chinese Moon Festival (or the Mooncake Festival) falls on 1st October 2023, though the dates vary on other years. It's the celebration of the Autumn Harvest, when the moon is at its brightest and at the highest point in the sky.
World Vegetarian Day – 1st OctoberObserved on 1st October each year, World Vegetarian Day was founded in 1977 by the North American Vegetarian Society.
(Related event: National Kale Day on 6th October)
Concurs de Castells – 1st til 2nd OctoberThis annual festival captures Catalonia's fabled human towers in action, the world's largest human towers, pitting 32 teams of humans against one another as they strive to create the tallest and most difficult human constructions. Albuquerque International Balloon Fiesta – 2nd til 10th OctoberWitness over 750 hot-air balloons take flight in the crisp blue skies of New Mexico agains the backdrop of the Sangre de Cristo mountains.
Austin City Limits – 1st til 10th OctoberTaking place at Zilker Park, Austin, TX, Austin City Limits is a music festival and the longest-running music series in American TV history. London Cocktail Week – 3rd til 9th OctoberCocktail lovers flock to London for discounted access to over 250 bars and restaurants across the city that includes curated cocktail tours, paired meals and masterclasses.
Frieze Art Fair – 8th til 11th OctoberThe Frieze Art Fair is an international contemporary art fair that takes place in London, New York and Los Angeles.
Moga Festival – 8th til 10th OctoberA festival of electronic music and culture, Moga Festival is held in Essaouira, Morocco, in October each year.Indigenous Day – second Monday in OctoberOften referred to as Native American Day, Indigenous Day is a celebration, recognition, and protection of the first peoples of the American continents (long before the arrival of Europeans). The event has steadily grown over the years to a worldwide scope, with the aim of downplaying or even eliminating Columbus Day, with many US cities now celebrating Indigenous Day in place of Columbus Day.Why? It's important to understand that Columbus did not 'discover' America (nor did he actually land on modern day USA), since there were already people living there. The arrival of Columbus also marks the beginning of the largest genocide in history, and to this day Indigenous peoples still fight for their rights to exist. As such, Columbus Day has fallen out of favour with many people, referring to it instead as Discoverer's Day.
Halifax Pop Explosion – 19th til 22nd OctoberPart culture conference, part industry meet-up, and fully musical blowout showcasing talent locally and from abroad, right here in Halifax, Canada.
Amsterdam Dance Event – 13th til 17th OctoberHundreds of electronic dance music events across the city unite for an event that takes electro dance club lifestyle to a whole new level.
International Nacho Day – 6th November
Celebrated on 6th November this year, the beloved nacho is a versatile and delicious food often enjoyed at parties of all kinds, watching sporting events, at the cinema, simply at home, and of course at restaurants.
International Artist Day – 25th OctoberArtists of every kind are celebrating around the world on this day. It's a day to honour, appreciate and recognise the efforts and work of artists who enrich our lives and society in so many ways.
World Opera Day – 25th OctoberWorld Opera Day celebrates an important musical art from. Originating from in Italy over 400 years ago, Opera entertains millions of people worldwide ever since.
World Pasta Day – 25th OctoberThis special day promotes the consumption of pasta around the world. The event seeks to increase awareness of the benefits of pasta.
Melbourne International Arts Festival – every OctoberA major international arts festival and a celebration of dance, theatre, music, circus, visual arts, multimedia, outdoor and free events Melbourne Festival is held each October in a number of venues across Melbourne, Australia.
Halloween – 31st October What else could it be? Arguably the best holiday of the year. No stress, no overload, and no 'holiday depression', just pure fun!
Commonly Asked Questions
Is it OK to go to the Caribbean in October?
Fall season is hurricane season in the Caribbean, so depending on whereabouts you go, it can be a nice vacation at best, or at worst, it can be a dangerous place to visit. Trinidad and Tobago are excellent autumn destinations in October, with clear days, warm temperatures, and a dry spell in the early part of the month.
Where should I go for a beach vacation in October?
Here's my recommendations for the top beach destinations:
Aruba (Dutch Caribbean)
Costa Rica (Central America)
Bora Bora (French Polynesia)
Bonnaire (Dutch Caribbean)
Hawaii (US)
Fiji (Oceania)
Tahiti (French Polynesia)
Curacao (Dutch Caribbean)
Book Your Trip: Budget Tips & Tricks
Flights: As always, I source the cheapest flights on the web from Skyscanner and Kiwi.com. They are considered the top flight search engines for the best deals.
Accommodation: I use Booking for the best hotel deals and HostelWorld for the cheapest stays. If you're considering Airbnb, be sure to check Vrbo to find cheaper vacation stays.
SIM cards: DrimSim is a universal SIM card that isn't tied to an operator and works in any country/region.
Travel Insurance: Stay protected from theft, injury, illness, and cancellations. A safety net in case anything goes wrong, I never leave without it. World Nomads is my favourite agent for total peace of mind.
Tours & Excursions: I book all my fave activities and guided tours on Get Your Guide & Viator – they do superb deals whilst offering excellent customer support.
Renting a car? I always use DiscoverCars, make sure you book your car hire in advance. For airport transfers, I use KiwiTaxi for the best deals.
Need to store your luggage in a locker? Use Radical Storage to store your stuff in a locker in any city for just $5 per day.
Head over to my Travel Tools page for all my best travel tips & advice and everything you need for your trip.
Enjoyed this post? share it on Pinterest so your followers can enjoy it too!


Further Reading:
Thank you for reading my post: Best Places to Visit in October (2023 Edition)I hope this gives you some ideas for the perfect autumn vacation!