Mexico is an enormous, diverse and vibrant country, situated at the southernmost part of North America, bordering the United States in the north and Central America (Guatemala and Belize) in the south.
Packed with rich culture, world-class food, and incredible heritage and history, Mexico is a a place of wonder and fascination to people all over the planet.
To most, Mexico is known for its world-class beaches, but also for being a corrupt narco-state run by drug barons.
Unfortunately this is view is based off stereotypes and bad-press, which scares people from visiting Mexico, however, not many people actually know what Mexico is known for.
So, what is Mexico known for? Scroll on to read 30 of the most fun, cool, weird, crazy, and unique facts about Mexico (plus some bonus facts about Mexico City) updated in 2023.
*Disclosure: Some of the links below are affiliate links, meaning, if you click through to make a purchase, I earn a small commission – at no extra cost to you.
30 Interesting Facts About Mexico (2023 Edition)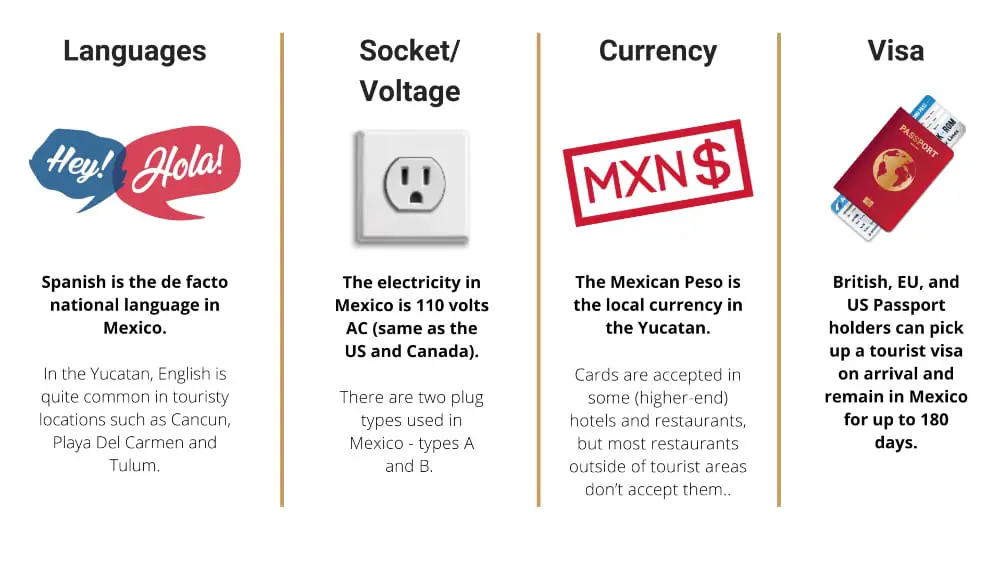 1. The World's 13th Largest Country 
Covering almost 2 million square kilometers, Mexico is the world's 13th largest country by size.
(Source: World Population Review)
2. The 10th Most Populous Country On Earth
With a population of over 131 million people, Mexico is the 10th most populated country in the world and the most populous Spanish-speaking nation on earth.
(Source: Worldometers.info)
3. Mexico's Official Name Is Estados Unidades Mexico
The official name of Mexico is Estados Unidades Mexico (which translates as the United Mexican States in Spanish.)
4. The Land Of The Jaguar
The largest wildcat in North America is the jaguar, which can be found roaming the southern jungles of Mexico.
5. Spanish Is The National Language
There is no official language in Mexico, but Spanish is the de facto national language.
There are also 68 recognised regional languages spoken among Mexico's native peoples.
6. Home Of The Chihuahua, The World's Smallest Dog
The Chihuahua is the smallest known dog breed, originating from the Mexican state of Chihuahua (of which it was named after).
Did you know: Mexico City is the oldest city in the Western Hemisphere! For more cool and crazy facts about Mexico City, click here.
7. Mexicans Are Descendants Of Ancient Civilisations
Modern day Mexicans are the descendants of many ancient civilisations that include the Olmec, Zapotec, Toltec, Maya, Aztec, Inca, African, French, and Spanish.
8. The Aztecs Sacrificed 1% Of Their Population Each Year
The Aztecs sacrificed around 250,000 people (about 1% of their population) every year, at the Chichen Itza and other ancient pyramids. They did this to appease the sun god.

9. A Former Spanish Colony
Mexico was ruled by the Spanish Empire for more than 3 centuries, from the 1500s right through until 1821.
10. The 4th Most Biodiverse Country On Earth
Mexico is the fourth most biodiverse country on the planet. With over 200,000 different species of fauna and flora, Mexico is home to 11% of all the world's biodiversity.
(Source: Wikipedia)
11. The World's Second-Largest Catholic Population
Mexico is second only to Brazil in the number of Catholic Citizens, making up 83% of the population.

12. The Origin Of Avocados And Tomatoes
Mexico introduced us to many popular and loveable foods including: chocolate, avocado, tomato, vanilla, courgette (zucchini), and various beans and chillies.
13. Mexicans Are The Hardest Working People
One of the lesser known facts – Mexico has the hardest working citizens on earth, with the average citizen working 2,148 hours a year, around 41.3 hours of work per week!
14. The 7th Most Visited Country On Earth
As of 2022, Mexico is the 7th most visited country in the world, receiving 45 million international tourists in 2019. It has the 15th highest income from tourism in the world.
(Source: World Population Review and infos10.com)
15. Mexico's Massive Dependence On Tourism
Tourism is one of the biggest drivers of Mexico's economy. Tourists from all over the globe flock to the country to experience Mexico's famous cultural diversity and natural environment at really low prices.
Check out the superb video below of Top 10 Places to Visit in Mexico by Jumping Places.
16. The World's Largest Spanish Speaking Population
With 121 million and counting. The United States is second on the list with 52 million (of which 41 million are native Spanish speakers). Colombia has 48 million, and Spain has 46 million Spanish speakers.
17. The World's Largest Beer Exporter
Another obscure fact about Mexico. The country is famous for its Corona and Sol beers that are a hit worldwide, but did you know there are MANY other brands of refreshing Mexican beer? They include: Pacifico, Indio, Tecate, Victoria, Bohemia, to name a few. 
Top Tip: Check out Mexico's famous Michelada – beer poured into a glass of spices with salt around the rim. It's one of my favourite drinks in Mexico!
18. Potential To Be A Nuclear Armed State
Mexico has the capabilities to create nuclear weapons, but has pledged to only use its nuclear technology for peaceful purposes.
19. A Pacifist State
Historically, Mexico has stayed neutral in international conflicts, with the exception of WW2.
20. World's 6th Largest Electronics Industry
Mexico has the 6th largest electronics industry on earth, after China, the United States, Japan, South Korea, and Taiwan.
10 Weird & Crazy Facts About Mexico:
21. Caesar Salad was invented in Mexico
A peculiar fact, the beloved Caesar Salad was dreamt up by Caesar Cardini, an Italian-American chef, in his Tijuana restaurant.
22. Children in Mexico don't receive gifts on Christmas Day
They have to wait until 6th January instead, as this date marks the visit of the Three Wise Men to baby Jesus in the biblical tale.
23. Mexico is home to the world's smallest volcano
The Cuexcomate volcano, which is located outside the city of Puebla, stands at just 43 feet tall!
24. It's illegal to shave while driving in Mexico
Yep, in 2008, the Mexican city of Torreon started to implement fines to drivers who shaved with an electric razor, or put on make-up, while driving. 
25. The Mayans used hornets as weapons of war
The Mayans were creative in their military tactics. They would throw hornet nests into the advancing enemy during battles.
26.
'The Day Of The Dead' is a National Holiday
In Mexico, Dia De Muertes, aka The Day Of The Dead, is a traditional festival widely celebrated across the country.
Starting on 31st October and ending 2nd November, the event involves family and friends gathering to pray for and remember those who have died, and helping to support their spiritual journey. This public holiday date back hundreds of years where its origins came from the Aztec civilisation.
27. Mexico City is bigger than New York City
In terms of scale and population, Mexico City surpasses New York City.
28. Mexico City is sinking by 10 inches each year!
Thats more than 3 feet per year! This is due to the fact it was built on a lake thousands of years ago. Today, the lake is part of Mexico City's aquifer system, and demand for water is so high here, that its causing the city to sink.
29. Colour TV was invented in Mexico
In 1942, a guy named Guillermo Gonzalez Camarena created the chromoscopic adaptor for the early colour tv transmission system. The first transmission was aired in 1946.
30. Mexico has the Largest Pyramid on Earth
The Great Pyramid of Cholula, also known as the Tlachihualtepetl (meaning made-by-hand mountain), is a huge complex in Cholula, Puebla. It is the largest archaeological site in the New World, as well as the largest Pyramid known to exist in the world.
Mexico Facts for Kids:
What are 5 interesting facts about Mexico?
Mexico is the 14th largest country by land area.

Mexico is the 10th most populated country in the world, with over 130 million citizens.

The official name for Mexico is Estados Unidades Mexico (United Mexican States).

There are 31 states in Mexico as well as the capital city, Mexico City.

Mexico is home to over 30 UNESCO World Heritage Sites and is a world-class tourist destination.
How did Mexico get its name?
The country has never always been known as Mexico. When the Spanish conquered the region, it was originally called the Viceroyalty of New Spain or Neuva Espana.
However, the natives have always called it Mexico. The origins of the name Mexico come from an Aztec war-god, known as Mexitli. He got his name from the word metztli, which meant mon, and xictli, which meant navel. It's thought that by putting these words together, the meaning became "child of the moon".
What are interesting facts about Mexico City?
As well as Mexico intresting facts, I have compiled a collection of some fun facts about the capital city below:
1. The country of Mexico was named after its capital, Mexico City.
2. Modern day Mexico City was built on top of the ruins of the Aztec capital.  When the Spanish conquered the Aztecs, they razed the city to the ground, before rebuilding it again, to resemble a Spanish city.
3. Mexico City is the oldest city in the Americas. It was founded in 1325 in the Aztec Empire, under it's former name, Mexico-Tenochtitlan.
4. Mexico City has the largest number of museums in the Americas and the second largest in the world, after London. There are 151 officially-recognised museums (and over 200 that lack official recognition).
What makes Mexico so special?
Long stretches of white sandy beaches, deep, underground cenotes, the world's smallest volcano, drug cartels, chihuahuas, Aztec, Inca and Mayan Ruins, sprawling coastal resorts, inventors, international celebrities, cultural festivals like the Day of the Dead, beer, tequila, and world-class food like burritos, tortillas, fajitas, tacos and enchiladas!
Five fun facts about Mexico
Here's 5 lesser-known facts about Mexico:
It's home to the world's largest Spanish speaking population.

Mexico is home to world's smallest volcano.

It's illegal to shave while driving in Mexico.

Mexico City is sinking by 10 inches every year.

Colour TV was invented in Mexico.
I hope you find this list an interesting read, and that it inspires you to visit Mexico one day!
If you ever plan on visiting Yucatan in Mexico, I have created the perfect 2-week itinerary here:
Head over to this post to learn how you can travel around Mexico's Yucatan on under $50 per day.
Mexico Fact File:
General Information
More information, statistics and general facts about Mexico, updated as of 2022:
Land area: 1,972,550 km2
Capital city: Mexico City
Total Population: 131,045,037 people.
Life expectancy: 75.4 years.
Currency: Mexican Peso
Official language: None. Spanish is the de facto and most spoken language. There are 68 recognised languages.
Religion: Roman Catholicism (83%), Protestantism (7%), Non-religious (5%)
National Holiday: 16th September
Government: Federal Presidential Constitutional Republic
President: Andrés Manuel López Obrador
Highest Mountain: Pico de Orizaba (5,636 meters above sea-level)
Largest Lake: Lake Chapala
Official Website: visitmexico.com
Member of Nato: No
National anthem: "Himno Nacional Mexicano"
Time zone: GMT−5, GMT−6, GMT−7
Driving side: right
Country Number/Prefix: +52
Country Code: MX
10 Largest Cities in Mexico
Here's the ten largest cities in Mexico. The capital, Mexico City, tops the list, followed by Ecatepec City which is a municipality of the Greater Mexico City area, and thirdly is the historic city of Guadalajara. Approximately 79% of Mexico's 131 million inhabitants live in urban areas. Source: World Atlas
| | | |
| --- | --- | --- |
| Rank | City | Population |
| 1 | Mexico City | 8,560,000 |
| 2 | Ecatepec City | 1,740,000 |
| 3 | Guadalajara | 1,500,000 |
| 4 | Puebla | 1,500,000 |
| 5 | Ciudad Juarez | 1,400,000 |
| 6 | Tijuana | 1,390,000 |
| 7 | Leon | 1,280,000 |
| 8 | Zapopan | 1,200,000 |
| 9 | Monterrey | 1,170,000 |
| 10 | Nezahualcoyotl | 1,160,000 |
Book Your Cheap Flights
As always, I source the cheapest flights I can find by using the best tools on the web: Skyscanner and Kiwi.com.
Click here for all my top tips and step-by-step guide on finding & booking the cheapest flights anywhere in the world – from as little as $15 return around Europe and $300 return from Manchester to Bangkok, for example.
Accommodation Deals
I use Booking to snag the best hotel deals.
Thank you for reading 30 Interesting Facts About Mexico (2023 Edition)
Do you know any other intresting facts about Mexico ? What's your favourite fact? Let me know in the comments!
---
[mc4wp_form id="1032″]